Even Stars Have Cellulite! 10 More Stunning Bikini Babes Reveal Their Not Quite Perfect Bodies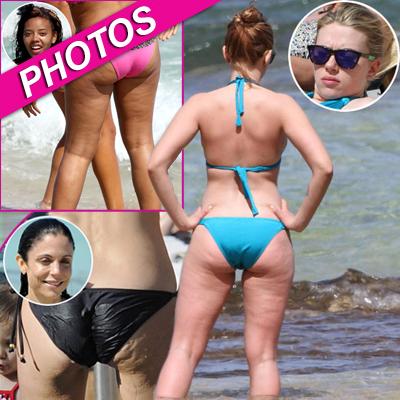 Article continues below advertisement
Plastic surgery can't fix everything! Tara Reid has admitted to going under the knife, but even with the help of the top doctors, the American Reunion star hasn't been able to get her bikini body in totally perfect form.
She may be a Skinnygirl, but she still gets cellulite just like everyone else! Bethenny Frankel is one of the hottest Housewives in the world, but the beautiful entrepreneur's figure isn't completely flawless.
Even supermodels get cellulite! Former catwalk crawlers Stephanie Seymour and Jerry Hall aren't afraid to show off their bodies in skimpy bikinis, even though they have aged and gotten cellulite just like the rest of us.
What other stars show off their cellulite in skimpy bikinis? Find out by clicking here.