Exclusive
Raising Sextuplets Kids May Get Therapy Over Parents' Split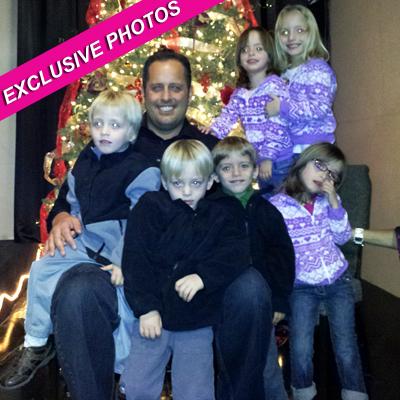 By Alexis Tereszcuk - RadarOnline.com Entertainment Editor
Following the shocking marriage of their mother Jennifer Masche to her lover boyfriend Levi McClendon, the little child stars of the reality TV show Raising Sextuplets may have to seek therapy due to the stress they're under, according to their father.
Bryan Masche, the sextuplet's dad, gave RadarOnline.com an exclusive update about how his children are doing since their mom left him and remarried. Masche says even though the children don't completely understand what is going on, they do have a hard time going between the two homes.
Article continues below advertisement
"They've said they wished mommy and daddy were together. It sucks. It isn't an easy thing to swallow."
Jennifer and Bryan share custody of the children, and he said that he thinks they're going to get professional help for the children.
"I think we're going to start doing counseling now. It's hard. They love being with me and my family, her and her family. They should get to be with both families."
Bryan said he was shocked to hear that Jenny has the kids calls her new husband "daddy Levi."
"That is disgusting. Sometimes my own kids call me daddy Bryan, that's just not right. I tell them 'I am your dad and my name is Bryan,'"
He said he blames Jenny for "shoving it down their throat when she moved in with her boyfriend."
Bryan said that the doesn't think his ex understands how difficult things are going to be for the kids, but that he has forgiven her.
Article continues below advertisement
"I'm not even mad, I'm disappointed in her as a human being. You can't stay angry forever. It doesn't help anything."
As for the children, Bryan gushed about how great they are and said "they love their dad and they love their mom."
"Savannah is the bossy one of the girls because she was born first and she always tells you that. She wants to be a ballerina and a waitress when she grows up.
"Bailey is the most advanced, coordinated, and a good 2 inches taller than everyone. It is funny to see all the little heads in a row and one pops up. The girls are crazy in love with their daddy and that is awesome.
"Molli the littlest, is adorable. She's really good, doesn't get into trouble. She's a very easy child not fussy. She's probably having the hardest time adjusting to the whole thing. She gets upset the easiest and cries the easiest."
Bryan is a proud papa of his three boys too.
"Blake is the most advanced, just coordinated, athletic. He lost his tooth and he has a funny grin. He wants to be a construction worker when he grows up.
Article continues below advertisement
"Grant – we nicknamed him the Gentle Giant when he was a baby, he was a good half pound bigger than anyone else, and he's still a sweet kid, just good. He's very loving, always wants to hang on me. Grant wants to be an astronaut when he grows up.
"Cole is my little baseball player. He hits the ball left and right handed. I could sit at the park all day with the kid and throw a baseball
"All of my kids are so great; I just wish they didn't have the broken home that Jenny created."