Exclusive
Raising Sextuplets' Cheating Mom Marries Her Lover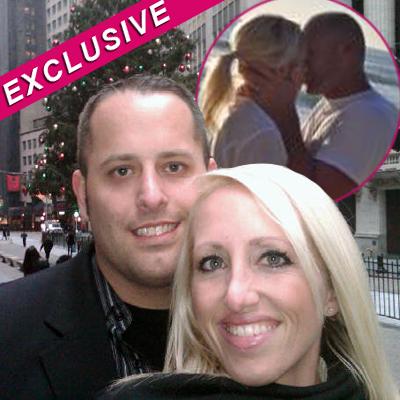 Article continues below advertisement
"Jenny and Levi got married in San Diego two weeks ago," a source tells RadarOnline.com. "It was a really small wedding with hardly any friends or family there, but San Diego was the place where Jenny and Levi went the first weekend when they started their affair."
Jenny's husband Bryan, who was arrested in 2010 after confronting his wife about the affair, confirmed the news to RadarOnline.com, and he says that he deals with his ex humorously.
"I started laughing when I saw her wedding ring," Bryan says. "It has a bunch of Scripture in Hebrew and I thought, seriously? She's still holding on to the Christianity thing? That's ridiculous because she doesn't have a church, and she doesn't take the children to church."
The sextuplets are almost 5 years old now, and Bryan says he guessed the secret marriage had occurred when the kids came home after the wedding acting strangely.
Article continues below advertisement
"When they came back to stay with me they were very hush-hush. I knew what had happened. I'm sure she told them to keep it secret," he tells RadarOnline.com.
As RadarOnline.com previously reported, Bryan claimed that the demise of the marriage was strictly Jenny's fault.
"Everyone knows a year and a half later I was the only one who would do whatever it would take to reconcile this family," he said. "I believe in marriage, that you get married once and it is for a lifetime. I didn't grow up with divorce or adultery. I kind of feel sorry for her because I don't think she realizes some of the damage she's doing to our kids. She doesn't understand the damage of divorce. In her heart she thinks divorce is ok. Instead of working on your marriage, it's ok to just fall in love with someone else while you're married and you get divorced."
However, Bryan now says the wedding is a relief for him. "I think her marrying him finally brings all of this to a close. She can finally go public with the relationship, and people can see the truth of what is going on," he says.
"My life is already better all the time. I have more peace. I feel bad for Levi because he's going to see the real Jenny. I feel bad for her; she doesn't know there is another way to live. I can put my head down at night and know I did everything I could to save my family for the sake of my children. Daddy did everything he could. I'm sorry, but this is life now."
Article continues below advertisement
Jenny and Bryan have joint custody, but there is one thing he will not let his children do -- return to reality TV.
"I would never be on TV again and neither will the children. It is in our divorce papers that we can't do reality TV. Jenny has tried multiple times to persuade me to go back on TV, but it will never happen," he says.
RELATED STORIES:
EXCLUSIVE: Raising Sextuplets Couple File For Legal Separation