Petra Ecclestone's Dad Shocked At Price Of Wedding Booze: $6,350 For Bottle Of Wine!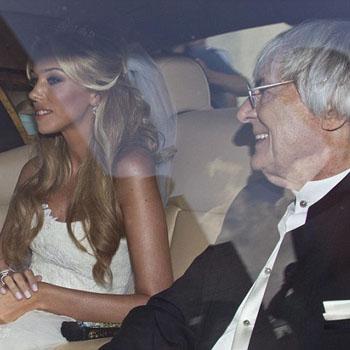 By Alexis Tereszcuk - Radar Senior Reporter
Even a billionaire can get shocked over the price of a drink!
Petra Ecclestone's lavish $18 million wedding was a star studded event catered by one of the best chef's in the world and held in a beautiful castle near Rome, but when her father saw the bill for the booze he was shocked!
In an excerpt from a new book about Bernie Ecclestone, the Formula 1 billionaire father of Petra and her socialite sister Tamara, he talks about the wedding, the extravagant prices and why he refused to pay.
Article continues below advertisement
Understanding that it would be an over-the-top wedding, Bernie wanted to pay but was hesitant, and then the bills started flooding in!
"It's absolutely unbelievable," Ecclestone said about the costs, in the new book No Angel: The Secret Life of Bernie Ecclestone, by Tom Bower. "It's very expensive," he says he told his ex-wife.
The drinks bill was the first invoice to arrive. The Chateau Petrus allegedly cost $6,350 a bottle!  "I only drank a beer," said Ecclestone, astonished by the amount. "I'm not paying for this."
When he asked how much the wedding would cost and was told $18 million Bernie simply said, "I'm not paying. Send it to Slav," his ex-wife.
As RadarOnline.com previously reported, Slavic Ecclestone picked up the entire tab for the wedding after her ex balked at the prices .
Bernie did buy his daughter Candy Spelling's $85 million home though, so we guess he made up for it with the wedding gift!
RELATED STORIES: