Petra Ecclestone's Dad Shocked At Price Of Wedding Booze: $6,350 For Bottle Of Wine!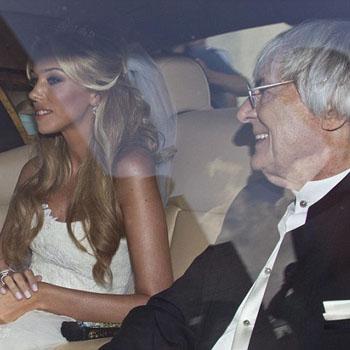 Article continues below advertisement
Understanding that it would be an over-the-top wedding, Bernie wanted to pay but was hesitant, and then the bills started flooding in!
"It's absolutely unbelievable," Ecclestone said about the costs, in the new book No Angel: The Secret Life of Bernie Ecclestone, by Tom Bower. "It's very expensive," he says he told his ex-wife.
The drinks bill was the first invoice to arrive. The Chateau Petrus allegedly cost $6,350 a bottle! "I only drank a beer," said Ecclestone, astonished by the amount. "I'm not paying for this."
MORE ON:
Bernie Ecclestone
When he asked how much the wedding would cost and was told $18 million Bernie simply said, "I'm not paying. Send it to Slav," his ex-wife.
As RadarOnline.com previously reported, Slavic Ecclestone picked up the entire tab for the wedding after her ex balked at the prices .
Bernie did buy his daughter Candy Spelling's $85 million home though, so we guess he made up for it with the wedding gift!
RELATED STORIES: