Paula Deen Suffers Legal Setback In 'N Word' Lawsuit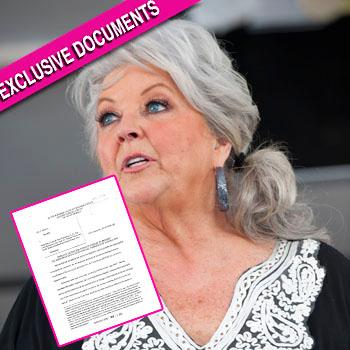 By Jen Heger - RadarOnline.com Assistant Managing Editor
Paula Deen has suffered a legal setback in an explosive 'N word' lawsuit that was filed against her by a former general manager of one of her restaurants, RadarOnline.com is exclusively reporting.
Lisa Jackson filed the lawsuit March 6 in Georgia against Paula Deen Enterprises, claiming a shocking pattern of alleged racism, including the use of the 'N word', sexual harassment and infliction of emotional distress and assault while working at Uncle Bubba's Oyster House.
Article continues below advertisement
EXCLUSIVE DOCS: Judge Denies Paula Deen's Request For A Gag Order
Deen's lawyers sought a gag order in the case because according to court documents, "a protective order is necessary because Ms. Jackson and her counsel have made abundantly clear that they intend to engage in a path of personal and financial destruction because Paula Deen would not pay their pretrial settlement demand...Through her cooking and television exposure, Mrs. Deen has arguably become the face of Southern cuisine and living....For a public figure such as Mrs. Deen, even if Ms. Jackson's allegations are proven untrue, the harm resulting from the continuing mass dissemination of the allegations may never be undone."
However, Judge Louisa Abbot has now denied the gag order request and said in her written ruling, "Having considered the parties' arguments, the Court finds the litigants' concerns about potentially adverse pretrial publicity and the potential effects of damage to their reputations do not outweigh any of the constitutional principles invoked by this motion, including freedom of press and speech."
The shocking lawsuit has blockbuster allegations including one in which Jackson states that she was appointed by Deen to handle the catering and staff for Bubba's wedding in 2007, and she asked Deen what the servers should wear: "Well what I would really like is a bunch of little n***ers to wear long-sleeve white shirts, black shorts and black bow ties, you know in the Shirley Temple days, they used to tap dance around," Jackson alleges Deen told her. "Now, that would be a true Southern wedding wouldn't it? But we can't do that because the media would be on me about that."
Article continues below advertisement
DOCUMENTS: Read The Explosive Lawsuit Against Paula Deen Enterprises (WARNING OFFENSIVE LANGUAGE)
Another alleged racist incident listed in the lawsuit: "In the presence of Ms. Jackson and Uncle Bubba's restaurant manager and a vendor, Bubba Hiers stated they should send President Obama to the oil spill in the Gulf of Mexico so he could n***er-rig it."
The queen of Southern cooking says in court docs that Jackson attempted to extort her for $1.25 million dollars. "Prior to the filing of this suit, Jackson repeatedly threatened to assert scurrilous claims publicly in the press unless huge sums of money were paid to Jackson and her counsel, which demand was refused. Jackson's suit should be dismissed, for among other reasons, on equitable grounds on the basis of clean hands."