Disneyland Do-Gooders! LeAnn Rimes & Eddie Cibrian Make Ailing Girl's Dream Come true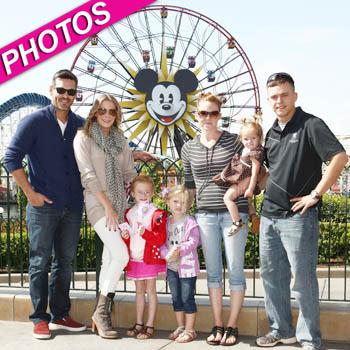 LeAnn Rimes made a little girl's dream come true!
The country star and her hunky hubby Eddie Cibrian headed to Disneyland on Monday, where they spent the afternoon with an ailing child and her family as part of the Wish Upon A Hero foundation – and RadarOnline.com has photos and details about the heartwarming afternoon.
LeAnn and Eddie learned about Cadence Cogs, a little girl who has multiple disorders with one leading to blindness, and her wish to visit Disneyland before she completely loses her eyesight, on Twitter. The do-gooding duo arranged through the Wish Upon A Hero foundation for her and her family to fly out from their home in Hawaii to Los Angeles and stay at Disneyland for the week.
Article continues below advertisement
"Just spent a lovely hr with the most beautiful family, the Cogs family," LeAnn Tweeted on Monday afternoon. "Cadence is a blessing. She was so wide eyed & the family so grateful! A little girl's whole life was made today and her whole family got to share in her joy. @wishuponahero THIS is why you guys should be so proud of the organization you have created."
LeAnn and Eddie looked like they were having a blast with the family of five, strolling around the park and going on The Little Mermaid ride with Cadence.