Kate Middleton Makes First Speech As Royal In Opening UK Children's Hospice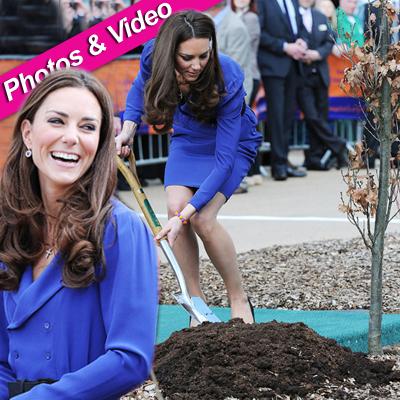 She speaks!
Kate Middleton -- in her first speech as a member of the royal family since tying the knot with Prince William nearly a year ago -- said she was inspired in her work with terminally ill youth that led up to Monday's opening of the East Anglia Children's Hospice in Ipswich, England.
"I am only sorry that William can't be here today: he would love it here," she said of her husband the prince, who's wrapping up a six-week RAF tour of duty in the UK's Falkland Islands. "A view of his that I share is that through teamwork, so much can be achieved. What you have all achieved is extraordinary."
Article continues below advertisement
The Duchess of Cambridge, 30, wore a blue Reiss belted dress (reportedly her mother Carole's) for the outing, in which 600 people showed up to the town outside of London to support her philanthropic efforts.
The ravishing royal said that when she first became involved in the cause, she had a "pre-conceived idea as to what to expect.
Watch the video on RadarOnline.com
"Far from being a clinical depressing place for sick children, it was a home," Kate said. "Most importantly, it was a family home, a happy place of stability, support and care.
"It was a place of fun ... it's a shining example of the support and care that is delivered."
Kate said she was enchanted by being able to encourage those in trying times.
HOTOS: Super Skinny Kate Middleton Plays Hockey in England
"The feelings you inspire -- feelings of love and of hope -- offer a chance to families to live a life they never thought could be possible."
Kate met Prince William in 2001 while attending Scotland's St. Andrew's University. She wed the handsome heir April 29, 2011 at Westminster Abbey, as an estimated worldwide audience of 2 billion people watched.