Jonah Hill: Martin Scorsese Photobombed Me At The Oscars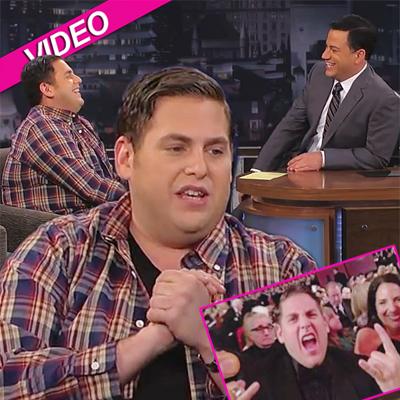 By Adam S. Levy - RadarOnline.com Staff Writer
Jonah Hill's and Brad Pitt's dynamic performances in Moneyball earned them both Oscar nods this year, affording the former to be photobombed by arguably the premiere movie director in history, the great Martin Scorsese.
(According to Urbandictionary.com, Photobombing "is to drop in a photo unexpectedly ... to hop in a picture right before it is taken.")
The actor appeared on Jimmy Kimmel Wednesday to promote his new film 21 Jump Street, and shared an "Only in Hollywood" anecdote with Kimmel regarding last month's gala award show.
Article continues below advertisement
Here's how it all went down: Hill said he and Pitt planned on meeting up at the ceremony and when they did, Brad wanted to take a picture of him.
As Brad snapped the shot, the director of cinematic masterpieces like Goodfellas, Casino and Cape Fear was prominent in the background.
"It's really funny -- Scorsese photobombed it!" Hill said. "He's like, 'Yeah photobomb! It's like, 'Scorsese get out of my shot, bro! What are you doing?"
He added, "He looks like the guy from Up!"
Said Kimmel, "You're right: he looks like Eugene Levy, and the guy from Up."
Watch the video on RadarOnline.com
Hill clarified that Scorsese is his hero for his magnificent career behind the camera.
"Well, you wont be working with him now, unfortunately!" Kimmel joked.
Hill and Channing Tatum star in 21 Jump Street, opening Friday.