Jennifer Lopez's Manager Reveals Why She Isn't Able 'To Have A Real Meaningful Relationship'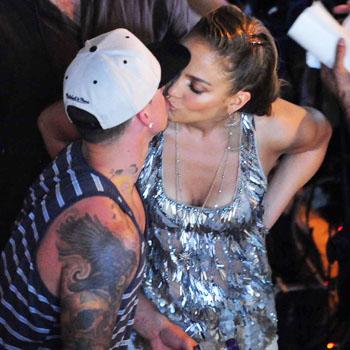 Apparently Jennifer Lopez doesn't follow her manager's advice when it comes to her personal life!
In the April 2012 issue of Vogue, Benny Medina, Lopez's manager and business partner of several years, reveals why his client and close friend isn't able to maintain a healthy relationship with a man – and RadarOnline.com has the details.
"The thing that I always sort of wished is that she would give herself time to just naturally meet someone, instead of having obsessive guys pursue her," Medina says about Jennifer's 'serial monogamy.'
Article continues below advertisement
"The ease with which that obsession becomes a relationship I think sometimes works against her ability to have a real meaningful relationship. And she never half does anything. When she commits to anything in her work, her life, or her relationships, she is in it."
RadarOnline.com exclusively reported earlier this year, that Lopez's soon-to-be ex-husband Marc Anthony advised the superstar to see a psychiatrist to determine why she is incapable of being alone.
Medina, who is the godfather of Lopez's twins, also divulges a conversation he had with his pal about her new, much-younger boyfriend Casper Smart.
"She's not oblivious to her own reality right now, as in, 'Damn, I'm 42 with a 24-year-old. Why?' We talked about it yesterday," he explains.
"She was just like, 'It's not even the age, Benny. It's actually that I just came out of a relationship where I felt like I was kind of not getting what I needed. And I'm open! So somebody who steps in right now and is actually touching me in a way – it's very fertile ground!'"