PDA Alert! J.Lo Smooches Casper Smart In Mexico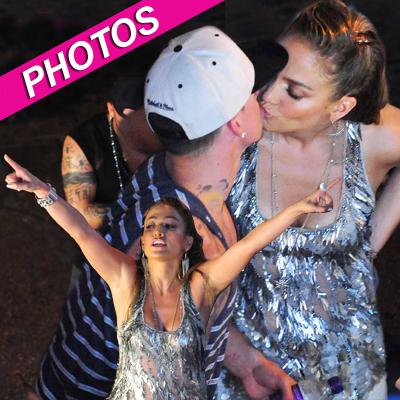 Ain't no particular sign she's more compatible with, she just wants his extra time and his ... kiss!
While it's a song made famous by Prince, it seemed to better suit Jennifer Lopez Monday, as she locked lips with her 24-year-old boy toy, Casper Smart.
The celebrity couple shared some open PDA in Acapulco, Mexico where the multitalented entertainer is shooting the video for her upcoming single, Follow The Leader.
Article continues below advertisement
In the pics we have, the On The Floor singer, 42, wore a silver, slinky number while Casper wore a white hat.
Much has been made of the couple's 18-year age difference, but J.Lo's hardly the first Tinseltown diva to dip into the fountain of youth for a lover: other notable older women relationships in Hollywood history include the late Elizabeth Taylor, who was 20 years older than ex-husband Larry Fortensky; Cher, who was 17 years older than her 80s boyfriend, Rob Camiletti; and Mariah Carey, who's 12 years older than her husband, Nick Cannon.