Jennifer Lawrence: 'I'm A Troll … I Hate Watching Myself In The Hunger Games'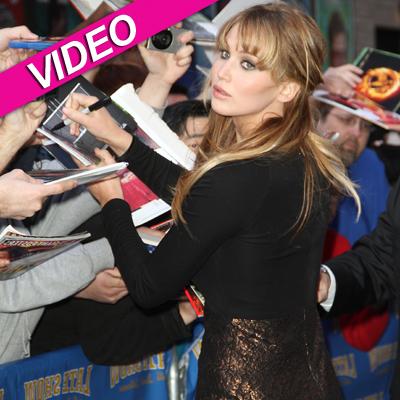 David Letterman welcomed The Hunger Games beauty Jennifer Lawrence onto the Late Show Tuesday, and the two chatted about the highly-anticipated film and budding star's anxiety in the fast-growing limelight, something Dave can relate to.
Letterman joked the film -- seen by many as an heir apparent to Twilight for the tween set -- looked like it was going to be "jumbo-big, blockbuster big."
Article continues below advertisement
"I've been, like, shaking for two months straight," Lawrence said of the white-hot buzz surrounding the adaptation of Suzanne Collins' three-part series, adding she feels like she comes off like a "troll" onscreen.
"I'm a troll, I hate myself whenever I watch ... I think the movie was great, but their biggest mistake was me," she told the notoriously neurotic talk show host, who joked "I'd like to see you next week too!"
Letterman said that he doesn't like to look at himself either, he's not a "lovely woman and a fine actress."
The 21-year-old Kentucky-born stunner, wearing a short black dress, said the film will appeal to not just the junior high crowd, but the masses.
Watch the video on RadarOnline.com
"Lots of young girls are very supportive and loud about the film," she said, "but, really, it's a movie for everybody."
Article continues below advertisement
The Oscar-nominated Winter's Bone beauty said she's already seeing her fame rise exponentially as anticipation builds for the film, which has already sold out more than 2,000 screens in advance.
"We do these autograph signings and there's all sorts of different reactions," Lawrence said. "Some of the tween fans start screaming before they even make it to me and then run away."
Asked if she shot the films concurrently (a la the Twilight series) Lawrence said she had her hands full shooting part one in North Carolina.
"I had a meltdown within a couple of weeks," Lawrence said. "I was just tired and hot."
The Hunger Games, co-starring Josh Hutcherson, Liam Hemsworth, Elizabeth Banks and Woody Harrelson, hits theaters Friday.