Dionne Warwick Breaks Her Silence, Calls Whitney Houston 'The Little Girl I Never Had'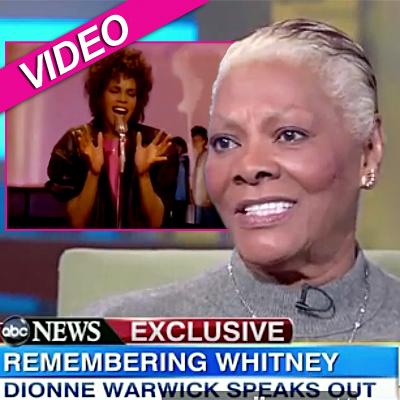 Whitney Houston's cousin Dionne Warwick broke her silence in her first interview following Houston's untimely death at 48 in Beverly Hills on February 11, telling Good Morning America Thursday that the late singer was "basically was the little girl I never had."
Warwick, a 71-year-old mother of two sons, said Whitney's daughter Bobbi Kristina -- the primary beneficiary of Whitney's will, as we reported Wednesday -- "has the support she needs."
Article continues below advertisement
Gesturing to her heart, the That's What Friends Are For singer told Robin Roberts, "Whitney is and will always be very, very much alive here."
Acknowledging the grieving process has been especially painful for her to deal with, Warwick said, adding she's "heading towards being OK.
"I have not really had an opportunity to mourn or completely break down, which I will do. I know that. I think the comfort comes in knowing she's in good hands now," said Warwick, also known for her Psychic Friends Network fame of the 1990s.
The five-time Grammy winner, who was seen with Whitney's mother (and her aunt) Cissy in the days following her death, said Cissy has been "holding up so very well.
"I am so proud of her: She has her moments, of course ... but I think she's coming to terms with it, just about now, the realization that it has happened -- it's not an easy thing for a parent to lose a baby."
Warwick said she spoke with the Run To You singer the day she died, and that Whitney was in a good mood -- "up and ready and happy" -- as she prepared to attend a pre-Grammy function held by producer Clive Davis.
Article continues below advertisement
"I spoke to her that morning. She said, 'You're here, aren't you? You're coming to the party, aren't you?' I said, 'Yeah, I'm going to be there' and she said, 'Thank you, I want you to be here. You've got to be here for me.'"
"She had everything in the world to live for," said Warwick. "She had everything in the world to live for. She had a new film, that was an absolute dream to make and do, and completed that, thank God. She was getting ready to go back into the studio to record, she was getting her vocals together.