David Hasselhoff Dons Series Of Bizarre Costumes In London Stage Show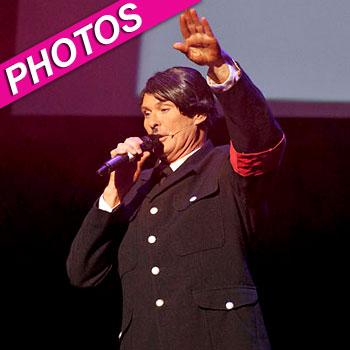 David Hasselhoff went for broke in his show at the Indig02 in London Friday night.
The singer/actor recreated some of his favorite roles, usually surrounded by a bevy of barely-dressed girls.
Digging back into his role of Hitler-playing actor Roger DeBrier from The Producers, the Hoff put on a wig and mustache the channeled the German dictator.
Later he got into his Baywatch sunglasses and jacket, although not his swim trunks. There was also a crazy wig with a bloodied white shirt, and a cowboy hat with jeans and boots.
Article continues below advertisement