Did She Say Yes? David Hasselhoff Pops The Question To Girlfriend – Again!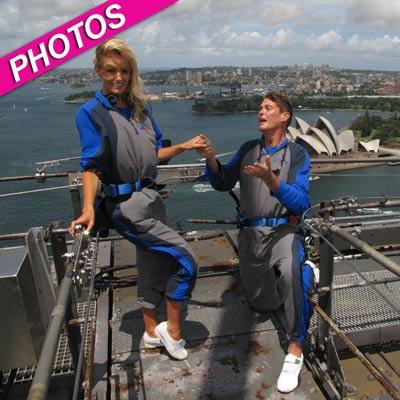 If at first you don't succeed…
With that in mind, David Hasselhoff popped the question to his gorgeous girlfriend on top of the Sydney Harbour Bridge on Monday -- his third attempt to win her hand!
Hayley Roberts, 32, previously nixed the proposals from the 59-year-old Baywatch actor, but the third time appears to be the charm, judging from two photos he posted on Twitter.
In the first picture, we see Hasselhoff  on bended knee proposing to the Welsch stunner, and in the second one, we see the couple kissing.
Article continues below advertisement
The couple have dated for nearly a year after meeting when Roberts asked for his autograph at the Britain's Got Talent auditions in Cardiff, Wales.
If they are in fact getting hitched, this would be the Hoff's third walk down the aisle.
He was previously married to actress Catherine Hickland from 1984 to 1989.
The same year he divorced Hickland, Hasselhoff married actress Pamela Bach.
The couple had two daughters -- Taylor and Hayley -- before divorcing in January 2006.