David Arquette & Girlfriend Split: 'Sadly, I'm Single Again'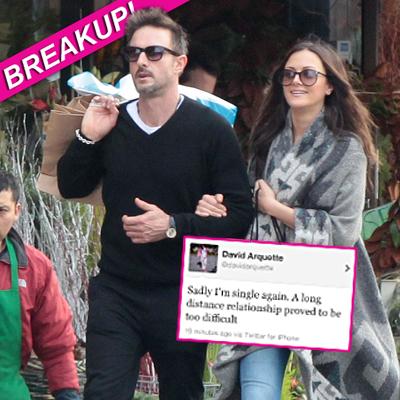 David Arquette and Entertainment Tonight beauty Christina McLarty have called off their coast-to-coast relationship.
"Sadly I'm single again," the Dancing with the Stars alum tweeted Tuesday. "A long distance relationship proved to be too difficult.''
David Arquette Celebrates One Year Of Sobriety
Arquette lives in Los Angeles, while McLarty lives in New York. She had not addressed the split on her Twitter page as of early Wednesday.
Article continues below advertisement
The duo had been dating since last summer, in what was Arquette's first high-profile romance since his separation with wife Courteney Cox in October 2010.
David Arquette Stands Up To Super Bowl Anti-Gay Haters: 'Jesus Preached Love!'
As for Cox, she told Howard Stern last month she's been celibate since her break-up with the Scream star, who's also the father of her only child, Coco.
"I have not had sex," said Cox, whose breakout came with a 1984 cameo in Bruce Springsteen's Dancing in the Dark video. (She was 20-years old at the time.) "It's been about a year. I'm holding to it.