Exclusive
Actor Opens Up About Days Of Our Lives Gay Kiss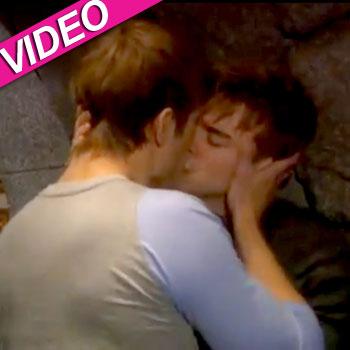 By Alexis Tereszcuk - RadarOnline.com Senior Reporter
Daytime TV is moving into the modern age – and this time it is with a gay kiss, between two guys.
Days of Our Lives character Will Reed, played by the handsome Chandler Massey has a wild night out at a party and has his first kiss with another man.
The 21-year-old actor exclusively opened up to Soap Opera Digest's Robert Waldron about the scene, revealing why his character finally got up the courage to kiss a guy.
Article continues below advertisement
"After living with self-loathing and disgust over not being able to accept himself, compounded by everything else that is going on in Will's life, he's tightly wound," Massey said about his character, who is downing shots in the scene.
"He's drinking because he thinks it will make him feel less awkward. Will allows himself to do something he wouldn't normally do in a sober situation."
When Will gets caught by his friend Sonny, played by Freddie Smith, Massey says, "It's one of those moments when Will wishes he could turn invisible."
The intimate scene is airing on Days of Our Lives on Thursday on NBC.
Watch a sneak peek below: