Channing Tatum Moons Sleeping Jonah Hill, Shows Photos On Kimmel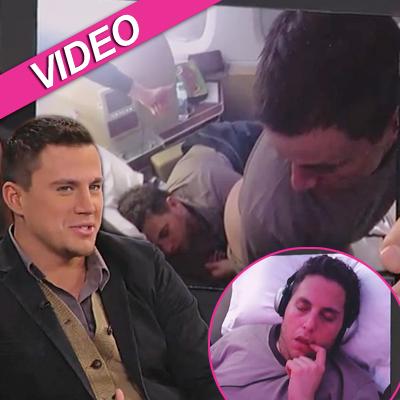 Channing Tatum and Jonah Hill, the stars of 21 Jump Street, are real-life buddies, and the former shared some funny stories with Jimmy Kimmel Thursday about the pranks he perpetrated on his pal during their travels promoting the film.
Tatum said he and Hill bonded plenty over booze, which sometimes produced hysterical results, such as the time a hungry Hill nonchalantly tried to stroll into a Miami deli with no pants on.
Article continues below advertisement
"I stopped him, I dragged him into the car and ... I had to dress him, like a mom," the hunky Dear John star told Kimmel of Hill, who has a screenwriting credit on 21 Jump Street, the silver screen adaptation of the late-80s Fox series that launched Johnny's Depp's career into overdrive.
Jonah Hill Didn't Need Rescuing From Australian Waters, Just 'Wasted' & 'Being Awesome'
The real fun started, Tatum said, when Hill would pass out on the plane, opening the door for many Kodak moments traditionally fueled by testosterone.
Hill and Tatum star in 21 Jump Street, opening Friday.