Exclusive
Britney Spears Losing Millions On Sale Of Beverly Hills Mansion: Take A Peek Inside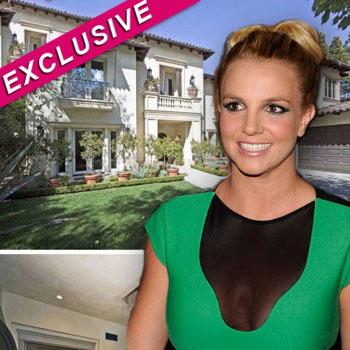 By Jen Heger - RadarOnline.com Assistant Managing Editor
Britney Spears is enduring the woes of the real estate market crash, and is losing millions of dollars on the sale of her infamous Beverly Hills mansion, that was at the epicenter of her life during her very public breakdowns, RadarOnline.com is exclusively reporting.
Despite reports that the house sold for a "huge price" of $4,253,000, Spears actually purchased the property for $6,750,000 and the house had originally been listed for sale for $7,495,000.
Article continues below advertisement
"The house had been taken off the market last year after years of just languishing on the market. It became apparent that the house was going to be a total financial loss for Britney as she bought the mansion at the height of the real estate market and simply overpaid," a source close to the singer tells RadarOnline.com. "Britney and her dad realized that they were going to have to drastically slash the price and just unload the house at a loss. The house has nothing but bad memories for Britney, and she hasn't been in it since 2007, it has just been empty for all these years,"
The stunning 9,000 square foot Tuscan villa is located in the swanky gated enclave, The Summit. The house features six bedrooms and six and a half bathrooms. The kitchen features state of the art appliances and beautiful wood cabinetry. The master bedroom features two huge walk in closets, a fireplace and spa like bathroom. One of the bedrooms was converted into a hair salon. A formal dining room, family room, media room and maids quarters are also included.
Article continues below advertisement
The grounds include a huge sparkling swimming pool and spa, and oversized gazebo.
As previously reported, Spears was in court last Thursday with her dad Jamie Spears, and fiancé, Jason Trawick to meet with Judge Reva Goetz. The judge wanted to discuss with Britney the possibility of her becoming a part of Simon Cowell's The X Factor.
The pop music queen has told her psychiatrist and her court appointed lawyer, Samuel Ingham, that she's now ready to go it alone, but it looks like that won't be happening anytime soon.
"Britney has said that she feels she is ready to resume control of her life," a source told RadarOnline.com. "She has expressed this sentiment on multiple occasions but her doctor believes that Britney isn't ready for the conservatorship to be lifted. She has come a very long way in the last 18 months especially but her team wants more time.
"Yes, Britney does live on her own with Jason and her dad hasn't lived under the same roof with her for years, but she just wants to be able to call her own shots. Britney doesn't have a problem with the conservatorship staying in place for her business. Remember, she doesn't have any formal custodial rights as far as her children are concerned. Kevin has agreed to essentially joint custody but in the eyes of the law she has no rights, and Kevin can revoke the agreement that is in place at anytime because of the fact that Britney is still under conservatorship."