Are They Reconciling? Arnold & Maria In Couples Therapy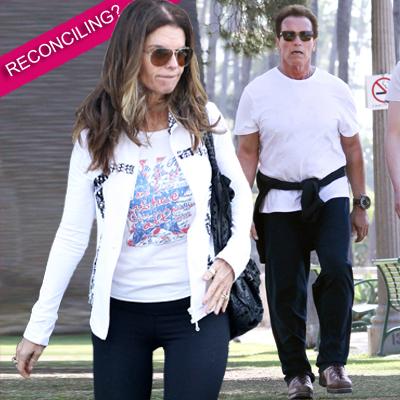 California's former first couple Arnold Schwarzenegger and Maria Shriver may not be headed for divorce court after all.
The pair -- who famously split last summer after news broke that Arnold had fathered a secret child with their housekeeper -- have been going to couples therapy in a last-ditch effort to save their 26-year marriage, according to Thursday's New York Post.
Sources told the Post that the devoutly Catholic Shriver can't bear the thought of divorce, while The Terminator star has told confidants he now realizes the gravity of his mistake.
Article continues below advertisement
"Arnold and Maria are having marriage counseling to work through their issues to get back together," a friend told the paper.
"Maria is a devout Catholic and doesn't believe in divorce, but is still struggling with the humiliation she endured by him."
"He is promising the moon and telling Maria he has completely changed his ways," another pal of the couple told the Post. "Maria's friends are warning her to be careful, saying he'll never change.
"Arnold is desperate to win her back, mostly because he realizes he can't live without her, and partly because he doesn't have the political clout without her. Winning her back would be the best way to show the world he has been forgiven for his transgressions."
As RadarOnline.com has previously reported, Shriver filed for divorce on July 1 -- six weeks after news broke that he fathered an out-of-wedlock child with his maid Mildred "Patty" Baena 14 years earlier.
Article continues below advertisement