Arnold Schwarzenegger & Sylvester Stallone: Hollywood Heavyweights Cross Paths In Hospital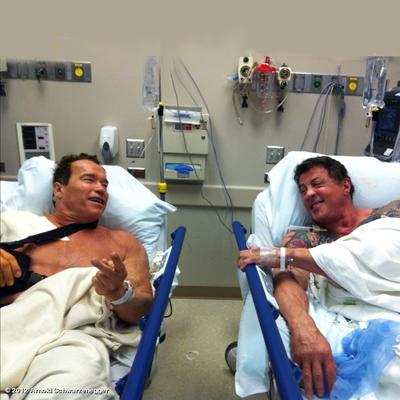 Rocky and The Terminator in the same hospital? In the same room? Yup.
It's true: Arnold Schwarzenegger and Sylvester Stallone wound up in neighboring beds at an undisclosed medical facility Wednesday, and RadarOnline.com has the pic for you.
The former California Governor wrote on his Who Say page, "After all the action, stunts & physical abuse shooting The Expendables 2 and The Last Stand, it was time for a little tune up on my shoulder," showing a pic of he, 64, and Sly, 65, smiling in their hospital gowns.
Article continues below advertisement
"Look who was coincidentally waiting in line behind me for his shoulder surgery," Schwarzenegger wrote. "Now we're ready for another round of great times and action when we shoot The Tomb."
Fun fact: During the 90s, Schwarzenegger and Stallone were the chief investors in the chain restaurant Planet Hollywood, along with Bruce Willis.
RELATED STORIES:
California Official Tells Arnold Schwarzenegger To Get His Unclaimed 15 Cents!