American Soldier Accused Of Afghan Massacre Was Allegedly A Conman, Stole Life Savings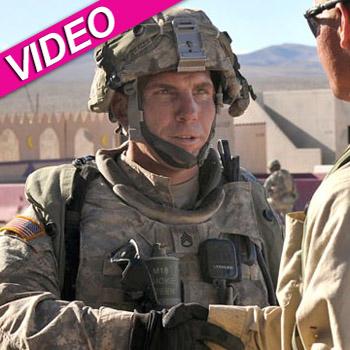 By Debbie Emery - RadarOnline.com Reporter
Details of Staff Sergeant Robert Bales' life before he enlisted with the military are emerging that suggest he had a dark side long before he allegedly went on a blood-thirsty massacre in Afghanistan that left 16 civilians dead.
An Ohio couple who knew Bales claim that he conned them out of their life savings and left them for broke, reported ABCNews.com.
As RadarOnline.com previously reported, the 38-year-old from Norwood, Ohio, was flown back to America last weekend and met with his lawyer for the first time on Monday at a military prison at Fort Leavenworth, Kansas, where he remains in pre-trial isolation awaiting charges that may carry the death penalty.
Article continues below advertisement
The married father-of-two has been in military custody since he surrendered following what U.S. officials described as a rampage on March 11 through villages in Kandahar province in which he allegedly shot, stabbed and set ablaze men, women and children.
Now former associate, Gary Liebschner, and his wife claim that they asked Bales, who worked for a local Ohio investment firm at the time, to sell stock for them to help cover medical bills, but they never received the payments.
A subsequent arbitration panel ruled that Bales' conduct was "fraudulent and malicious," and that he and Michael Patterson and Michael Patterson Inc. were individually and jointly liable for $637,000 in compensatory damages, $637,000 in punitive damages, $216,500 in attorneys' fees and several thousand dollars in other fees, reported WCPO.com.
In the midst of the pending case, Bales enlisted in the army and subsequently could not be located to pay the mammoth compensation bill that totaled $1.4 million.
Article continues below advertisement
"My income is less than what's going out, so we're trying to make ends meet," Liebschner told ABC News, and when asked if he thought Bales was a conman he replied, "I think you've hit the nail on the head."
The staff sergeant's personal troubles escalated after he joined the military following 9/11, since which time he did three tours of duty in Iraq, encountered legal issues including a misdemeanor arrest for assaulting a girlfriend in 2002, a reported drunk driving arrest in 2005 for which he wasn't charged, and a hit and run after he claims to have fallen asleep at the wheel.
Bales is now thought to be having financial problems with his house rumored to be on the market, but his wife Karilyn has kept quiet on the topic of finances, simply asking for: "peace and time to make sense of something that makes no sense at all."
In a statement released on Tuesday she expressed her sympathy to the victims in Afghanistan:
"What happened on the night of March 11 in Kandahar Province was a terrible and heartbreaking tragedy," Karilyn wrote. "My family including my and Bob's extended families are all profoundly sad. We extend our condolences to all the people of the Panjawai District, our hearts go out to all of them, especially to the parents, brothers, sisters and grandparents of the children who perished.
MORE ON:
Celebrity Justice
Article continues below advertisement
"I know that all good people around the world, regardless of nationality, religion or political values, join me in grieving that such a terrible thing could happen.
"What has been reported is completely out of character of the man I know and admire. Please respect me when I say I cannot shed any light on what happened that night, so please do not ask," she concluded. "I too want to know what happened. I want to know how this could be."
Watch video about the investigation into Bales' alleged fraud below: