Oh Baby! Wide-Eyed Infant Is Baffled By Daddy's Noises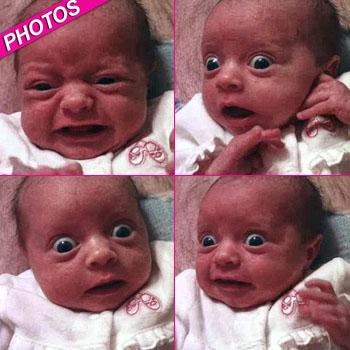 By Debbie Emery - Radar Reporter
A viral video has gotten both baby lovers and baby-phobes alike saying, "Awwwww!" and RadarOnline.com has the footage of the adorably confused infant.
Little Charlotte's eyes can be seen almost popping out of her head when her daddy makes motorboat sounds to try and get her to go to sleep like her twin brother Greyson, who is passed out beside her on their father's lap.
Article continues below advertisement
"After bouncing, rocking, swinging, singing, talking, and massaging her tummy one particularly rough evening, her mother and I just started making noises out of desperation," explained Adam, from Kentucky, who posted the video onto YouTube and now has more than 300,000 followers.
"This one seemed to click. It was the first time she stopped crying in almost an hour."
In the hilarious footage, Charlotte displays a myriad of dramatic emotions from fear to confusion to fascination as she watches dad fool around above her.
While some YouTube users have criticized Adam for scaring his daughter, many have fallen in love with his entertaining little girl.