Read Gordon Chambers' Heartfelt Love Letter To The Late Whitney Houston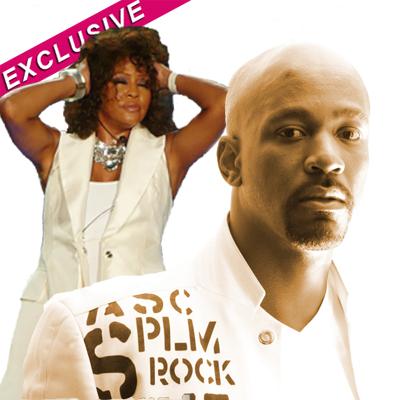 R&B singer/songwriter Gordon Chambers has plied his craft for more than 70 recording artists, including Beyonce, Aretha Franklin and the late Whitney Houston.
The talented Chambers, also a New Jersey native, has shared with RadarOnline.com the emotional letter he wrote to Houston upon learning of his friend and collaborator's untimely passing at 48.
"MISSING YOU" (A Love Letter to Whitney Houston)
Article continues below advertisement
This is the hardest love letter I have ever had to write. I remain shocked and devastated by Saturday evening's news that Whitney Houston has gone to glory. But a friend called me this morning and shared something that made me smile. She told me that Whitney sang at Kelly Price's pre-Grammy event on the Thursday night before her death, raising the roof with an impromptu rendition of "Yes, Jesus loves me." Why am I not surprised? Because having spent time with Whitney, I got to know how unshakeable her faith in the Almighty remained, even in times of life challenges.
My dream came true of writing and producing Whitney came true in 2002, thanks to Arista A&R executive Joey Arbegey and L.A. Reid, who was President of the label at the time. I produced the cuts "My Love" and "Things You Say" on her platinum album "Just Whitney"." But my crush on Nippy's once-a-century voice started way before that. I was raised in Teaneck, NJ, in the 70's and 80's. In my teens, I became very serious about writing songs, inspired greatly by an emerging starlet who grew up in Newark, NJ, and was old enough to be my big sister. The 80's were a decade of big hair, big cars—my Dad sold Cadillacs—and big crossover dreams for Black folks. The Cosbys were on television, Jesse was running for president, and Whitney was racing up the pop charts. She was angelically beautiful, and the very embodiment off all that post-civil rights Black America could be. I was obsessed in getting a song to this woman. I even dragged my Mother with me to Cissy's beloved Newark church New Hope--- in hopes that I'd meet Whitney in the lobby.
Article continues below advertisement
After graduating from Brown University in 1990, I went to Essence and served as Entertainment Editor for Essence until 1997. During this post in 1995 my first two hit songs Anita Baker's Grammy-winning "I Apologize" and Brownstone's Grammy-nominated "If You Love Me" hit all the radio waves. I went to a down-home card party at a colleague Jean Riggins' Englewood home, and there she was. Bobby and told her of the songs I'd written and she gave me a warm hug and told me much she loved my work. I was in 7th heaven. It took seven more years however, long after I'd left Essence, for me to have the chance to collaborate with her, however.
The Atlanta sessions for "Just Whitney" were not easy, and postponed for several days, due to Whitney's bad cold. I was nervous, and started to believe they wouldn't happen at all. The minute she walked into the room and flashed her warm megawatt smile, all was well in my world. I'll never forget that how entered the studio, humbly introduced herself and chatted warmly with all of the studio assistants and engineers. Here was a world-renowned entertainer—effortlessly regal—but down-home and just plain nice. I gifted her with a collection of her mother Cissy's Sweet Inspirations reissues that she hadn't known were being rereleased, and she melted. I knew a friendship was born. Before recording a single note, we'd bonded deeply over music. I knew I had met a sister, and we prayed during every recording session.
Article continues below advertisement
When I was asked back to produce the title cut "One Wish" from Whitney's Christmas album two years later, it was a family reunion. Bobby was a barrel of laughs in these sessions, and by this time I'd become very close with Whitney's brother Gary and sister-in-law and manager Pat. I had no idea my life would change, however, during this session. Whitney was recording the bridge of the song, and I sang her a certain high note and lick that I insisted she hit. She looked me in the eye and said…"I think you want to do what I do, baby…If you want to sing, you should go for it." Those words were arresting to hear. At first I thought I offended her by being too demanding of the diva. But she reassured with her eyes that she meant it with sisterly straightforward love. When the greatest singer of the 20th century tells you to start singing, you take heed.
I returned to New York and started cutting tracks for Introducing Gordon Chambers, my solo debut. When the album came out, Pat Houston planned a benefit concert for me in her hometown, Shelby, North Carolina. Whitney was unfortunately unable to make it, but—to my great surprise--generously recorded a "spoken" welcome in California to greet the audience. I was in shock, and so grateful. This is the Whitney that I had the honor of knowing, producing and befriending: a woman with human imperfections, but with a heart of gold and rock-solidly loyal and devoted to her friends and family. I was very moved when Whitney told me that she took only two CD's with her on a spiritual trip to Israel: John P. Kee's and my solo debut. How blessed was I to find out that my album was soothing to her sometimes troubled soul.
Article continues below advertisement
Unfortunately, now that Whitney is now gone, I'll now forever wonder what she was going through in her last few moments in the bathtub hours before the legendary Clive Davis pre-Grammy party. I know she loved that grand gala. The last time I saw her was three years ago, ironically also in her Beverly Hilton hotel room suite. That afternoon, she was choosing between two dresses a stylist had sent up and deep in pre-performance mode when Pat brought me in to say hello. I told her I liked the gold one better than the blue and we had a ball chatting about music—especially Gladys, Aretha, Phyllis Hyman and Chaka--as she fielded a flurry of phone calls and I played with her dog. She was multitasking but made me feel welcome. Hours later, I sat in the audience with Pat and Gary as she rocked the house. She was about to launch her final album "I Look To You" and Clive was proud of his "comeback" queen.
Today, I wonder if the pressures of giving the world so much public joy while dealing with the private pressures of addiction recovery, post-divorce single-motherhood and reigniting and acting and film-producing career with "Sparkle" were just too much for her body to bear. What I do know, is that because of her kindness on earth, she is surely now in heaven amongst a heavenly chorus of other divas and legends gone-too-soon. Perhaps, she is now getting her rest. And perhaps Bobbi Kristina, who also has a beautiful voice, will one day carry the torch. A job well done, Whitney. You've touched millions of lives in 48 short years. You can now joyfully serenade yourself. "And I will always love you."
Your friend, collaborator, and soul mate,
GORDON CHAMBERS
Chambers' most recent album, Sincere, is available on his website www.gordonchambers.com, as well as on iTunes and Amazon.com.