Battle Of The Bulge! Star Jones Shows Off New Curves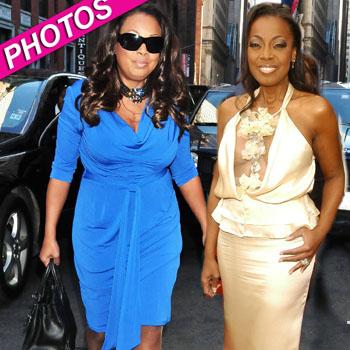 By Alexis Tereszcuk - Radar Senior Reporter
Getting ready for her return to the View, Star Jones showed off her ample new curves in New York Wednesday.
After having gastric bypass surgery in 2003 and dropping a whopping 160 pounds, it looks like the legal eagle is battling to keep the bulge off once again.
When she left the View for the first time in 1996, she vehemently denied having any weight loss surgery, but was subsequently outed by her co-host Barbara Walters.
Article continues below advertisement
"She decided to have a gastric bypass operation, but then she decided not to tell anybody," Barbara said in an interview with Oprah Winfrey. "Then we had to lie on the set every day because she said it was portion control and Pilates. Well, we knew it wasn't portion control and Pilates."
Now Star's weight appears to be hovering around 185 pounds, and sources say she's turned to her old favorites.
"She loves the breakfast sandwiches from fast food restaurants, mac and cheese for lunch and sometimes a whole pizza for dinner," a friend told the National Enquirer.