Sheryl Lee Ralph On Whitney Houston's Death: 'I Was Stunned Into Shocked Silence'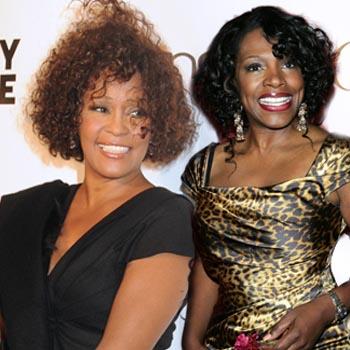 Sheryl Lee Ralph knows what it takes to be a diva. Like the rest of the world, the legendary singer/actress was shocked at the untimely death of pop superstar Whitney Houston last Saturday at the age of 48.
The following is an open letter written by Ralph -- and sent to RadarOnline.com -- in memory of her old friend.
"Death of a DIVA"
Like so many others, I was stunned into shocked silence when I was told of Whitney Houston's death. It hit me like a slap in the face, and when I realized that it was true, the reality stung and burned my eyes. Each tear I cried was like the running of a film filled with thoughts and emotions of times gone by.
Article continues below advertisement
I was immediately taken back to the opening of Dreamgirls. It was 1981 and we were a bona fide SMASH. A Broadway hit that just exploded all over people's hearts and minds. I wrote in my upcoming book, Redefining DIVA, that "Our show had touched people with freshness and originality. Dreamgirls spoke to anyone who ever had a dream. Anyone who ever had big hopes and even bigger obstacles." And let me tell you, there were big obstacles getting to fame, but there were even bigger obstacles staying there.
I thought about Whitney and her battles with music and misery over the years. So very different from when I first saw her when I said "oh my, that's a dream!" The Dreams were making our mark on the stage of the Imperial Theatre night after night, ending every show with the kind of applause that brought people to their feet and just up the street in a club called Sweet Water, there was a teenager doing the same thing, Whitney Houston. She was as fresh and as fabulous as we were also giving audiences moments that they would never forget. I know I will never forget how in that little club sitting with Loretta Devine, we both thought, "Wow, this girl is the real deal." But just as fame came calling on us, it came for Whitney too, and it wasn't always nice.
Article continues below advertisement
Everybody wants fame, but fame is a very difficult friend to keep. It can be like a jealous lover who wants you all to themselves and when threatened, they will beat you up, ruin your good looks, tear down your self esteem and even kill you. In order to call fame your friend, you have to have it all together. You have to be ultra-strong, solid to the core and know that God is good. A spiritual foundation suggested. Fame will build you up just to crush you down. You have got to have faith along with fame. You have got to know who you are or fame will take you out. We have seen it happen over and over, Judy Garland, Elvis Pressley, Michael Jackson, Kurt Cobain, and Amy Winehouse.
Whitney had a real show biz pedigree, Auntie REE REE, Aretha Franklin was her god mother, Cissy Houston, lead singer of the Sweet Inspirations and background singer for Elvis Pressley, was her mother and Dionne Warwick was her cousin or aunt. I could never get it straight. She had a simplicity and innocence about her in the beginning with her close cropped curly fro and skin with a hint of left over teenage acne. She was just a purely talented kid, and there is nothing like pure raw talent.
Article continues below advertisement
In the beginning, fame was wonderful. I will never forget those famous lavish 80s parties, where we were surrounded by the beautiful yes people who told you yes, you're right, yes, you're beautiful, yes you're wonderful. Yes, Yes, YES! Whatever you want, yes! It was all there for the asking. No one tells you NO and you feel protected. You think they are there to help you, but new fame brings friends, clothes, jewelry, "Sex and drugs. The two can be a dangerous mixture. Add a little alcohol for an extra kick on the elevator ride down." And just as quick as you go up you can begin the decent down. "That's fame.
I saw how drugs took the best of Nell Carter, the actress/singer who Tom Eyen was writing DreamGirls for. She left us to pursue a bright career in Hollywood landing the sitcom, Gimme a Break. I remember Nell telling me, "To stay away from the hard stuff as she vomited into the toilet." I have never forgotten that moment.
The next time I saw Whitney, I could tell that fame was having it's way with her. There was a very talented makeup artist that we shared and he had a serious issue. I don't know but I thought he was sharing his issue with Whitney. It hurt to think that it could be true.
Article continues below advertisement
I saw her again several times on the set of Moesha with and without her husband of fifteen years, Bobby Brown. I could see fame was walking with both of them. It was obvious. Whitney and I spoke quickly and quietly as I helped her turn her wig around. I was saddened to see what I saw and I wished there had been more time to say Stop!! Remind her of that great beginning of hers and tell her how quickly it all ends. Let her know that the road she was walking with fame has had the same end of the road for everyone who has walked it that way. But there wasn't the time.
I didn't have the time to tell her that she was not some ordinary Diva. She was DIVA! Divinely, Inspired, Victoriously, Anointed. But all too soon the DIVA has died again.
By Sheryl Lee Ralph
Redefining DIVA :Life lessons from the Original DreamGirl
Simon & Schuster
Available March 13, 2012
RELATED STORIES:
Whitney Houston's Bodyguard: 'You Can't Protect Someone From Themselves'