Nicole Richie Talks Hell Raising Twenties: 'I Have Fond Memories Of That Time'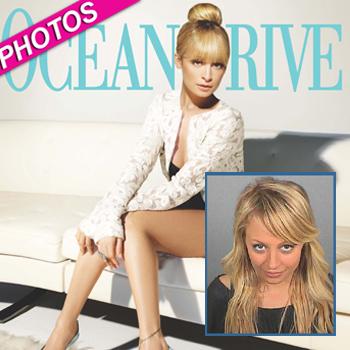 Nicole Richie's life seems to be a lot more simple these days!
It's hard to remember that the happily married mother-of-two was once a tabloid fixture with rehab and a DUI bust under her belt -- but the former reality star is opening up about her wild twenties, and much more, to Ocean Drive magazine — and RadarOnline.com has her interview highlights.
"Joel and I are complete polar opposites," she says about her husband of more than two years. "He's from southern Maryland. He's very family-oriented. He grew up with four brothers and sisters. When we met, I was definitely going through a difficult time with my family, and having him have such a strong foundation really opened the doors and brought both of our families together."
Article continues below advertisement
But apparently when opposites attract and procreate, their personality traits get blended together.
"My daughter looks exactly like me, and she has Joel's personality. She's very careful," Nicole says. "She doesn't make a move without fully thinking about what the consequences would be and what that means. Sparrow looks exactly like Joel and has my personality. He's just wild. I'm in for the ride. He's two, and we've had broken fingers, we've been to the hospital. You cannot take your eye off of him for a second. He is just a full, free spirit."
Nicole, who was arrested in her younger years and went to rehab to deal with her addiction problem, discusses her growing pains and how she has evolved since she sky-rocked to international stardom on The Simple Life with Paris Hilton.
"You have to remember that I was 20 years old," she says of her troubled times. "I don't know anybody who can look back at who they were at 20 and say, 'I'm the exact same person.' It's all about evolving and growing. Who we are in our 30s is obviously very different than who we are in our 20s."
Article continues below advertisement
"I have fond memories of that time. I was 20, 21 years old and I was doing a show with my best friend and we didn't really have to do much. We were just being ourselves—and playing it up for the cameras, obviously—but the show was very safe for me to do, in the sense that cameras were never in my home. They were never shooting my family. It was more about stepping into other people's realities, as opposed to the cameras coming into our realities," says Richie.