Like A Virgin? Kate Moss Causes Outrage From Christian Groups For Controversial 'Fashion Bible' Cover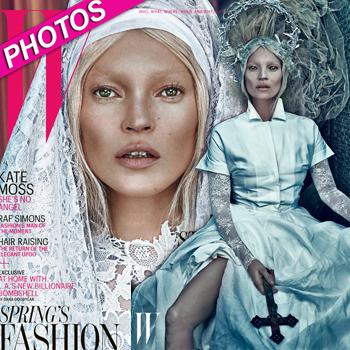 By Debbie Emery - Radar Reporter
She's no angel, but that didn't stop Kate Moss from getting dressed up like the Virgin Mary for W magazine!
The scandalous supermodel, who often hits the shoreline topless, is featured in the religion themed March 2012 split covers of the fashion magazine, showing off her "good" and "bad" sides – and RadarOnline.com has the controversial photos.
Wearing a Vera Wang silk lace dress, an Erdem habit, and Early Hollywood vintage lace, Kate was photographed by Steven Klein for the magazine's Spring Fashion Bible issue, with religious word references like 'divine', 'heavenly, 'sinful' scattering the cover.
Article continues below advertisement
For the "Bad" cover, the model is depicted in a darker light, wearing a Gucci silk georgette dress with blood red lipstick.
In one of the more controversial images inside the magazine, the supermodel wears a white Jill Sander cotton dress with her legs spread open, holding a dark cross between them.
While the photos are a hit with aspiring fashionistas, they have caused outrage among conservative groups, RadarOnline.com can exclusively reveal.
"Clearly W magazine needs to generate some controversy to pretend it matters, so it's turned to today's standby and decided to bash Christianity," Dan Gainor of the Culture and Media Institute exclusively told RadarOnline.com.
"Everything W has done here, from making the issue the 'Fashion Bible' to having Moss hold a crucifix provocatively between her legs, is designed to provoke controversy and mock religion. We get it, hating Christians is certainly in fashion.
Article continues below advertisement
"Interestingly, W tried to create twin covers showing a good and a bad Kate Moss. Given how twisted W is for mocking religion, they should have stuck to just one cover -- the bad -- to reflect the magazine itself.
"While Moss can be faulted for appearing in this spread, it's the responsibility of the magazine's editors not to try to profit by denigrating faith. Instead of high-brow fashion, readers get low-brow bigotry," he concluded.