Ernest Hemingway's Boyhood Home For Sale: Take A Peek Inside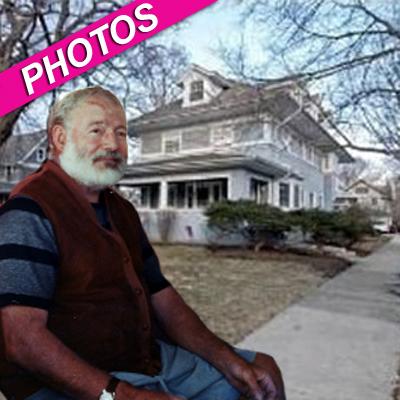 If you are a literature lover who's always wanted to take up in a writer's residence, now's your chance!
Ernest Hemingway's boyhood home is up for sale, and RadarOnline.com has photos of the 4,200-sq-ft house, courtesy of our friends at Zillow.com.
There were plans to turn the Oak Park, IL. abode, where Hemingway lived from age 6 until 18, into a cultural center, but when that fell through, the Hemingway Foundation, which purchased the house in 2001, placed it on the market.
Article continues below advertisement
The three story house was designed by Hemingway's mother, Grace and Henry Fiddelke in 1906 and contained offices for Ernest's father, Dr. Clarence Hemingway along with a large music room.
Sadly, Clarence committed suicide in the second floor bedroom of the home, and eight years after the tragedy Grace and Ernest moved out of the house and it was subsequently turned into apartments.
The home has been somewhat of a living monument since the Historical Society of Oak park and River Forest placed a plaque in the front yard commemorating Hemingway.