Eccentric Duchess Of Alba Unveils Her Life Story In Eye-Opening Memoir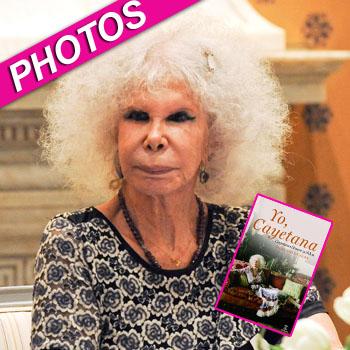 By Debbie Emery - Radar Reporter
The iconic Duchess of Alba has lived an abundantly colorful life that would make even Hollywood script writers blush, and now Europe's most titled royal has put her experiences on paper in a new memoir.
Also known as Maria del Rosario Cayetana Alfonso Victoria Eugenia Francisca Fitz-James Stuart y Silva, the Spanish royal made a special appearance on Wednesday in Estoril, Portugal, to present her autobiography, and RadarOnline.com has photos of her literary presentation.
Article continues below advertisement
Dressed in a flowered black and white dress, with her signature patterned lacy tights and wild head of white hair, the 85-year-old Duchess was flanked by her boy toy husband, Alfonso Díez, 61, who she controversally tied the knot last October.
Her new autobiography Yo Cayetana, is written in her native Spanish and tells her life story from her childhood through great love, personal tragedies, her role as a mother, becoming the head of the House of Alba, and her "last triumph," marriage to Diez, and according to Amazon.com, all written with the humor and stylish flair that we've grown to love.
Having once been criticized by Spain's citizens for being old school aristocracy and the biggest landowner in the nation (she even sparked riots when voted the Most Illustrious Daughter of Andalusia), the Duchess is now beloved by her nation and has become a celebrity darling.
After such a life of glamour and power, the Duchess hasn't let her senior years slow her down!
She recently rubbed shoulders with Tom Cruise on the red carpet at the premiere of Mission Impossible: Ghost Protocol in Madrid.