Exclusive
Dreamworks Chairman & Dallas Mayor Involved In Bouncing Checks!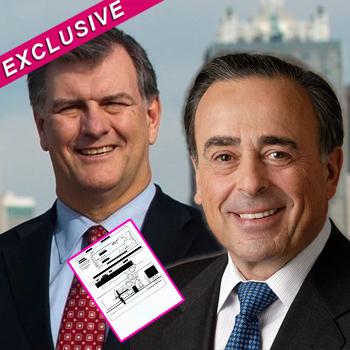 By Amber Goodhand - RadarOnline.com Reporter
Dreamworks Chairman Roger A. Enrico and the current Mayor of Dallas, Michael Rawlings, both sit on the board of directors with a beverage company that RadarOnline.com has exclusively learned is writing bad checks.
A former independent sales rep for Adina for Life, Inc., has come forward and says he's the victim of two bad checks issued in January 2012, on behalf of Adina totaling $1,500, which were returned to him because of insufficient funds.
Article continues below advertisement
EXCLUSIVE DOCUMENTS: Copies Of The Bounced Checks: See Them Here!
Jeff McCarroll of Broad Brook, Connecticut, did business with Adina and said the company recently let a bunch of their employees go and the expense checks they were owed are bouncing.
In April 2010, it was announced that Enrico and Rawlings — respectively the former CEO of PepsiCo and the former president of Pizza Hut Inc. -- who are a part of CIC Partners, were involved in a $14 million investment deal with Adina for Life.
"I talked to the president of the operating group and he claims he was told by the venture funds that they were funding the account linked to the expenses, and they're the ones that didn't pay," McCarroll said. "The blame is being passed around, but we're still not getting paid."
McCarroll says he even tried to reach out to Rawlings directly, but had no luck that way either.
"I tried contacting the Mayor to get my money and got no response," he said.