Micky Dolenz: 'Shocked' & 'Bewildered' By Death Of Davy Jones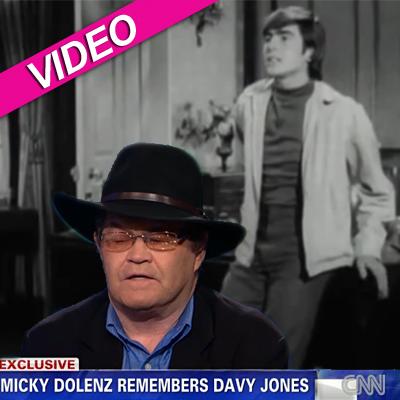 By Neil Woulfe - Radar Senior News Director
The Monkees star Micky Dolenz can't believe his former cast mate and dear friend Davy Jones is dead.
Dolenz -- appearing on CNN's Piers Morgan Tonight Wednesday -- spoke lovingly of the British-born performer, who died earlier in the day of a heart attack at his Florida home at the age of 66.
"He got this advice from someone and went on to be just an incredible talent and a wonderful performer and such a lovely person and such a wonderful friend and the -- a heart of gold," said Dolenz. "And would just do anything for you, anything, anywhere. And had lovely children who I feel, you know, I have so much pain for right now."
Article continues below advertisement
Watch the video on RadarOnline.com
Dolenz -- The Monkees drummer -- recalled their instant chemistry and how producers capitalized on it during the show, which aired on NBC from September 1966 to March 1968.
"They paired us together early on. I remember that. We did these scenes together. And we kind of connected together and, you know, had some kind of a rap and the thing and the stuff and, you know, bada bing, bada boom, because, again, I guess because of our history in the business," Dolenz told Morgan. "But, you know, he was - obviously, he was, you know, the heart and soul. He was the heart and soul of the show."
Dolenz said at first he didn't believe the news that Jones had died, as he worked out daily and was a strict vegetarian.
"I thought it might have been one of those internet stupid joke hoaxes, I hoped it was, but obviously it was not. (I'm in) total shock," he said. "I thought he would have been the last of us (to die). He was the youngest of us... I thought it would have been me (to die first), I'm not a vegetarian..."
Article continues below advertisement
"I'm bewildered. I'm anxious to talk to his family and friends and find out what was going on, but then again, it could be genetic. I k now both his parents passed over at a younger age, who knows, that could have something to do with it... but boy, everyone is in total shock."
The band reunited a few times over the years, most recently in 2011 for a tour titled, An Evening With The Monkees: The 45th Anniversary Tour.