A Glimpse Into Courtney Love's Bizarre & Eccentric Mind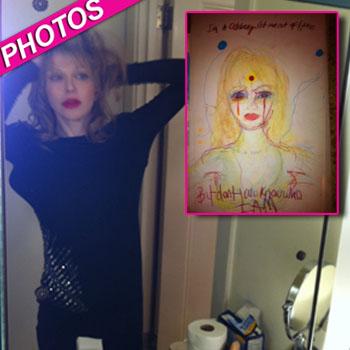 By Amber Goodhand - Radar Reporter
Courtney Love gave fans a glimpse into her bizarre and sometimes eccentric mind when she posted photos and drawings on her Twitter page, and you can see them all on RadarOnline.com.
Some are photographs of the 47-year-old in her younger days, while some are self-portraits recently taken of herself in bathroom mirrors.
Her drawings consist mostly of women showing their bare chests, with one drawing of a blonde girl — that resembles Courtney — with a bullet hole in the middle of her forehead and the caption, "I'm a celebrity, get me out of here. By, Don't you know who I am."
Article continues below advertisement
Courtney tweeted the photos the same day that RadarOnline.com reported on her daughter's never-before-seen 2009 deposition papers in which she made numerous stunning allegations against her mother.
Frances Bean Cobain alleged in the deposition that Courtney was on a diet of Xanax, Adderall, Sonata and Abilify, sugar and cigarettes, went crazy at an ex-boyfriend's home, screaming and throwing rocks at his house, and that her problem with hoarding killed their family cat and dog.