Sports Illustrated Model Amber Smith Says She Was A Scary Stalker!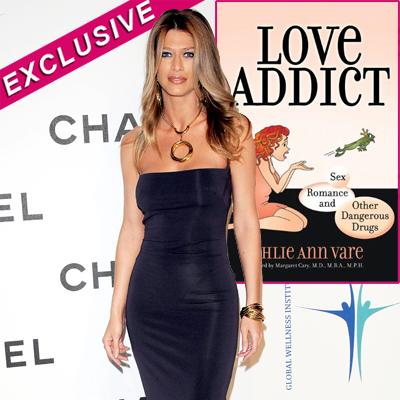 Single White Female alert!
Former Sports Illustrated swimsuit model Amber Smith used to be a scary stalker!
Supermodel Amber reveals all her crazy secrets in the new book Love Addict: Sex, Romance, and Other Dangerous Drugs by Ethlie Ann Vare, RadarOnline.com can reveal.
"I saw a guy in a club in New York one night and ended up stalking him for twelve years," Amber said. "But I didn't know I was a love addict. I thought I had low-grade depression and general anxiety disorder. I thought I was really intense and a lot to handle. I thought I was a drug addict who loves deeply."
Article continues below advertisement
Amber says that she chased one man -- she refers to him as "John" -- who caught her eye at a club, causing her to run after his taxi. She said that even though her career took her out of the country, she kept track of the stranger she instantly fell in love with for years. She eventually moved to Los Angeles to be close to him and went to the nightclub he worked at on a regular basis.
"I should have gone to New York after that to establish my career, but I went to Los Angeles instead, because that's where he was," she confesses. "I don't know what story I told myself at the time. He managed a club -- if you're a love addict, it's good to find someone who's stable so you can stalk them easily -- and I would show up there every night, and pick a fight with him just so he'd notice me.
"Finally he did take me home and screw me ... and that's all it was to him."
Amber said that she became so obsessed with "John" that she would change her look to mirror the girl he was dating at the time in an attempt to win him over. She would even buy items owned by his girlfriends if they were available on eBay.
"I started dressing like her. I would change my hair to red, or I got extensions, or I went dark. If he was dating a celebrity, I would go onto eBay and see what I could purchase of hers."
Article continues below advertisement
Amber also reveals that she got pregnant the very first time she had sex.
"I got pregnant the first time I had sex. He was the bad boy at school, of course -- cute, popular . . . expelled. He knew I was a virgin yet when I went back to tell him I was pregnant he said, 'Are you sure it's mine?' I so wanted to get angry but I couldn't get angry because if you get angry they're not going to come back, right?"