Adele's Rolling In The Deep Inspiration Revealed! Meet The Man Who Broke Her Heart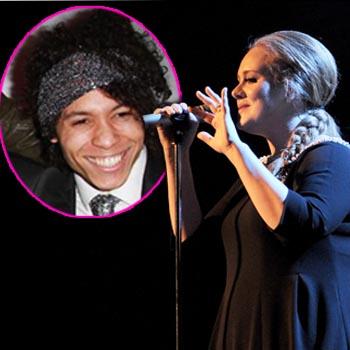 Adele is a classy girl who refuses to kiss and tell, even when it comes to revealing the identity of the man who broke her heart and inspired her latest album 21 that went on to win a whopping six out of six trophies at the 2012 Grammy Awards – but nonetheless, the mystery man has been unveiled!
The New York Post has named the Rolling in the Deep heartbreaker as Slinky Sunbeam, also known as Slinky Winfield, a 25-year-old musician and actor and part of Adele's South London circle of friends.
Article continues below advertisement
"Adele likes to keep part of her life back for herself, but it's an open secret that Slinky was the guy who inspired 21, " a friend of the singer dished to The Post. "He's a seriously good-looking guy. He has a great body and likes to wear vests to show it off. And he has this crazy hair which reminds me of Jimi Hendrix — it's really wild and untamed."
"It's easy to see what attracted Adele to him," the friend added. "He's a really popular guy, the life and soul of the party, and he's a musician as well. But while Adele has the knack for writing songs which the whole world can tap into, Slinky's material is more underground and kind of art-school trendy."