Exclusive
Vanilla Ice: Fixing Homes Is My Rehab; See Inside His Renovated Mansion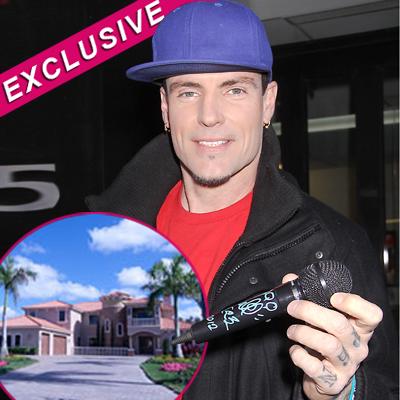 By Debbie Emery - Radar Reporter
From hip hop star to handyman!
90's rapper Vanilla Ice has traded in his microphone for construction tools, and RadarOnline.com has exclusive details on his latest home make-over project.
The Ice, Ice Baby singer premiered the second season of his reality show, The Vanilla Ice Project, last Saturday on the DIY Network, where he gave a Florida mansion a high-end makeover.
Article continues below advertisement
"I turned a foreclosed mansion, a 10,000 square foot mansion, that had been sitting for three years just left to rot. I turned it from zero to hero," Vanilla Ice, whose real name is Robert Van Winkle, told RadarOnline.com in an exclusive interview.
"I put a lazy river in the backyard, and on the inside I put in a pneumatic elevator, panoramic game room, 3-D with vibrating chairs. I also put a home theater in there with fiber optic lights, to leave a less carbon footprint with all LED lights throughout the whole house," he explained.
Vanilla Ice first got into flipping houses 15 years ago when he invested his musical profits into real estate. "I bought a lot of homes around the country, I did Ice, Ice Baby when I was 16 years old, then I ended up going on tour, and I didn't use these houses at all. I came back home and I thought, 'Wow, that was a waste of money, lets sell them," he explained.
"I sold them, and I literally made millions of dollars, that was back with the real estate market when you could do that, it was great."
Article continues below advertisement
Not only is his new project fantastic inside and out, but the Palm Beach home can be controlled by the touch of a button -- even from the other side of the globe.
"The house is a smart house as well, so you can control everything with your iPhone or iPad anywhere in the world," Van Winkle told RadarOnline.com.
"You can shut your drapes, you can turn on your waterfall outside, you can scroll through 6,000 movies and say I have guests coming on at 8 o'clock, put on Forrest Gump on the projector, 200 inch screen and projector in there."
Instead of relying on other people to do all his dirty work, Ice isn't afraid to fire up his power tools himself.
"I am very hands-on, this is all my own money. It's not a reality show that's staged, it's a real show, I buy and sell these houses," he explained.
"When the camera stops, there's no B team to come in and finish the work. It looks very glamorous on TV but it's a lot of work. I get in there and get my hands dirty with the guys all the time."
Article continues below advertisement
After his phenomenal success, the hip hop star made a spectacular fall from grace in the mid 90s when he succumbed to drink and drugs.
"I had a weekend that lasted a few years," he candidly revealed to RadarOnline.com. "I had to find my purpose in life... I'm happier than ever (now), even though I wouldn't wish my life on my worst enemy to get here."
The 44-year-old singer explained how his current home improvement passion has helped him get over past demons.
"That was my rehab, I'm straight as an arrow. We drink a bunch of energy drinks and we stay clean."
He plans to keep his current mega-mansion, which even boasts a 500 foot zip line in the backyard, as a showcase house for now, before putting it on the market for around $3 million.
Fans of Vanilla Ice's music will be happy to hear that the rapper is still making rhymes and has a new record coming out called WTF.