Exclusive
Chuck Star Yvonne Strahovski Reveals The Secrets Behind Her Sexy Naked Sobe Shoot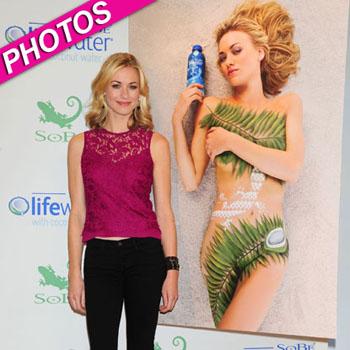 By Debbie Emery - Radar Reporter
With only a thin coat of body paint saving her modesty, Chuck star Yvonne Strahovski is the latest spokesmodel to strip off for Sobe water and RadarOnline.com has a behind-the-scenes look at the sexy tropical photo shoot.
Wearing just an intricate design painted expertly onto her naked body, Strahovski revealed why she wasn't worried about baring all for the new Sobe Lifewater with Coconut Water campaign.
Article continues below advertisement
"I was a little nervous," 29-year-old Yvonne told RadarOnline.com in an exclusive interview. "But I've been a fan of their previous campaigns, so I knew half of what to expect and I always thought they came out beautifully."
When asked how the artistic shoot - which included having palm leaves painted across her stomach and coconuts on her hips - differed from posing in a bikini, the Chuck star replied: "I guess I'm a little more exposed. You feel the air against you but the same time you look down and go, 'Oh, I'm covered with this semi-bikini situation on my body.'
"It looks so real. It looks like there are leaves on my body," said Strahovski, who patiently sat for six hours as the design was drawn over her skin.
Instead of obsessively hitting the gym or starving herself before she stripped off for the cameras, the Australian-born actress simply went to work!
"My show keeps me in shape and I was finishing up Chuck right at the time and we were really busy all the way to the end and I was doing a lot of stunt work.
Article continues below advertisement
"The stunts have taken care of that for me with the training aspect of things.
"I'm not really a fan of the gym, I prefer to go hiking or rock climbing with a friend, so it will be a challenge to find new ways to stay fit when I don't have fight scenes," she explained.
Now that Chuck has ended its five-year run, Yvonne not only has to say goodbye to her castmates, but also find a new workout routine.
"I'm not sure what I'm going to do now that the show has finished because I don't have any more stunts to do, but we'll see!," she told RadarOnline.com.
"The hardest thing is saying goodbye to everyone, all the highs and lows and all the memories.
"For the longest time I was thinking that it was going to be hard to say goodbye to the cast and crew but in the last few days it really hit me that I have to say goodbye to Sarah Walker."
Article continues below advertisement
Yvonne will soon be heading Down Under to her homeland to begin shooting I, Frankenstein with hunky Aaron Eckhart, and while she's currently focusing on her film career, she doesn't rule out doing a real nude shoot if the right opportunity came along.
"I don't know, it would have to be... everything is case by case. It's like when you're picking a movie or a TV show or role to play, you have to consider the character and the people involved.