Bikini-Clad LeAnn Rimes Has A Ball In Hawaii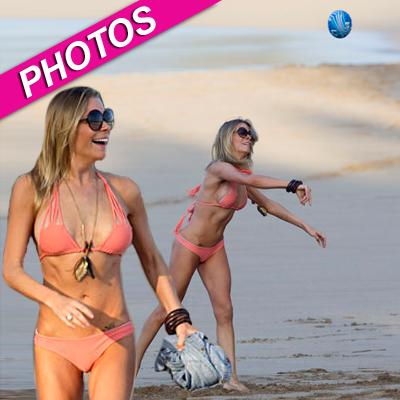 LeAnn Rimes showed off her sleek body playing ball with a pal in Hawaii on Wednesday, and we've got all the photos for you on RadarOnline.com.
Rimes, clad in a peach-colored barely-there Acacia bikini, was all smiles beginning her new year on the islands. As we previously reported, she's set to perform a private show for Hyundai and the PGA Tournament there. She was later spotted grabbing a bite with her hunky husband, Eddie Cibrian.
Article continues below advertisement
The super-toned country singer's physique has often been the subject of speculation, though Cibrian insists, "She's far from unhealthy ... she eats more than I do sometimes!
"She eats pretty healthy, but she works out pretty hard too, and she actually takes pride in the way she looks," he told Access Hollywood last year.
The jet-setting couple was greeted with a traditional Hawaiian welcome upon their arrival Wednesday, with LeAnn joking on Twitter, "We got laid (as in flowers around our necks) as soon as we got off the plane -- couldn't resist."