Exclusive
'Self Conscious' Kyle Richards Insists She Is Only Shown From Chest Up In Bikini Shots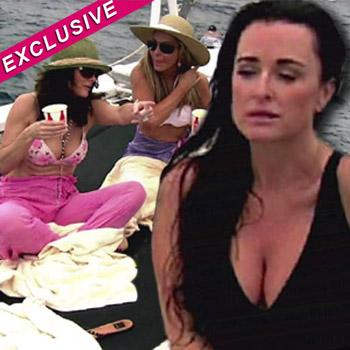 By Jen Heger - Radar Legal Editor
The Real Housewives of Beverly Hills cast members want to make sure that they are shown in the most flattering way possible, and have input over how they are seen on the Bravo hit series, RadarOnline.com is exclusively reporting.
In the most recent episode, the ladies were in Hawaii on vacation, and Kyle Richards told producers not to show her from the chest down while she was in swimwear.
Article continues below advertisement
"Kyle is very self conscious about her body, especially compared to Brandi Glanville and Camille Grammer," a show insider tells RadarOnline.com. "Kyle told producers she didn't want to be seen from the chest down. The group went on a sailing expedition, in which most of the ladies were in skimpy bikinis. Kyle was in a flattering black one piece bathing suit, and was only shown from the chest up."
The Housewives receive screener copies of the upcoming episode a week before it airs, and one of the reasons is to make sure they are satisfied with how they look. "Make no mistake about it, all of the women are extremely concerned with their looks, they do live in the plastic surgery capital of the world. If the women aren't happy with how they look, producers have enough time to edit and make changes to make them happy," the source says.
Article continues below advertisement
"Once Andy Cohen brought up the fact Kim was absent because she was in rehab, Brandi immediately rolled her eyes. Things quickly escalated from there and Kim's sister, and fellow housewife, Kyle jumped once again to her sister's defense," a show insider tells RadarOnline.com. "Brandi was basically telling everyone, 'see, I told you so, I wasn't wrong, and I shouldn't have to apologize for pointing out that Kim is a junkie'. There was no love lost between Brandi and Kim this season, and Kyle was relieved that her sister, wasn't exposed to Brandi's venom.