Life's A Zoo For Kim & Khloe Kardashian In Big D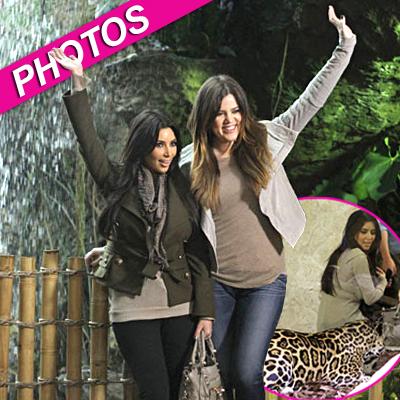 Kim Kardashian paid her first visit to sister Khloe in Texas on Wednesday, checking out the exhibits at the Dallas World Aquarium, and we've got all the pics for you on RadarOnline.com.
The socialite sisters fed the fish and animals, checked out a waterfall and posed with fans.
"I'm not from Dallas but I D Town boogie!" tweeted an excited Kim, quoting the song "Teach Me How To Dougie" Wednesday.
Article continues below advertisement
The two then went to watch Khloe's hubby, Lamar Odom, score 15 points as his Dallas Mavericks beat the Phoenix Suns later on that night.
Fun fact: Kim has 12.3 million Twitter followers to Khloe's 5.6 and Kourtney's 4.7 -- it's good sibling rivalry isn't an issue with these loving sisters!
REALATED STORIES:
Kim Kardashian Is A 'Homewrecker' Says Kanye West's Ex Amber Rose