Out Of Control Kate Major Attacked A Police Officer, Screamed Obscenities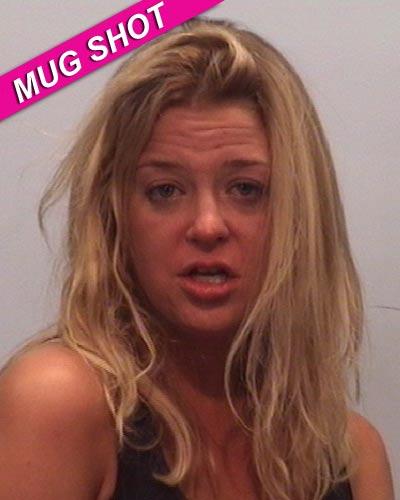 Article continues below advertisement
DOCUMENTS: Read About Kate Major's Out Of Control Attack On Police
Kate, who recently completed a 30-day stint in rehab, had reportedly attacked Rosaria Tapia and Juan Jimenez in a parking lot in Boca Raton, calling them racist names and screaming obscenities including, "fat f**k" and "b***h."
According to the police report, "Major was belligerent, screaming and trying to hurt Tapia and Jimenez. " She then hit Leanne Medina, who appeared on the scene to try and break up the fracas.
The attack was reportedly sparked when Jimenez arrived at his assigned parking spot in the apartment building to find someone had parked in his space.
While deciding what to do, Major and her roommate, Erica Martinez walked up to the car and began yelling and screaming at him.
"Major attacked him by grasping onto his shirt with both of her hands and pushing and shoving him. Major also began calling him and his wife, Rosario Tapia, several racial names," said the report.
Article continues below advertisement
"According to Tapia, she was attacked by Major who twisted her right index finger, bruised her right breast and hit her in the face on both right and left cheeks."
When the police arrived, Kate was being restrained on the ground, but she wasn't finished with her crazed rant.
"She refused to comply with their verbal commands to stop and calm down by screaming and yelling more obscenities," stated the report.
"While taking Major into custody she tried moving her legs around and almost kicked Officer McCoy in the leg if he didn`t move in time. After handcuffs were placed on Major, Officer McCoy put the leg restraint "hobble" on Major to prevent her from kicking one of us," wrote officer Andrew Crawford.
Things didn't get any calmer when Kate arrived at the police station!
After complaining that her left arm and right knee hurt, the Boca Raton Fire Rescue were brought in to treat her but she continued to rant to them about how she shouldn't be under arrest.
Article continues below advertisement
When repeatedly asked to sit down, she got up and announced: "I`m going to cause a commotion then," and began yelling and screaming obscenities to Officer Crawford, saying to get his hands off her.
"I attempted to back out of the cell and create some distance from Major; however, she managed to spin around and slap my left bicep with her open right hand as I was exiting the cell," stated his report.
"Once the cell door was closed, she continued to kick and punch the cell door while screaming obscenities at me, calling me a 'fat f**k,'" he explained.
Major has now been released from custody and is facing charges of battery, resisting arrest with violence and battery on a police officer. It is not known if alcohol played a part in her arrest.
As RadarOnline.com previously reported, Major and Lohan's romance blew up in a series of he said-she said allegations of physical abuse. There is currently a restraining order prohibiting Lindsay Lohan's dad from going anywhere near Major.