Exclusive
Kate Hudson Calling Kurt Russell Dad: 'That Was Really Painful,' Says Her Father Bill Hudson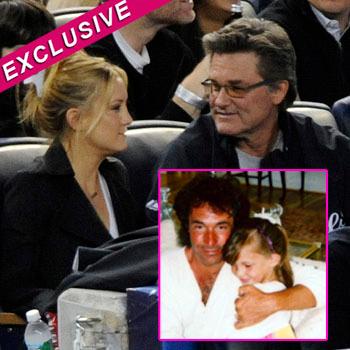 By Amber Goodhand - Radar Reporter
Kate Hudson has called Kurt Russell 'dad' for years, but her biological father exclusively tells RadarOnline.com it's "really painful" to hear his daughter refer to another man as her dad.
"At first it was okay when everybody was getting along, but there were certain things I didn't like. I didn't like that Goldie wanted the kids to call Kurt 'pa,'" Kate's father Bill Hudson told us in an exclusive interview.
Article continues below advertisement
"It was very confusing to the kids, particularly Kate, and that was really painful."
"Kurt is my dad," Kate told Vanity Fair in a past interview. "Kurt is a savior who came into my life. Bill was sort of in and out of our lives. I don't hate him for it. I guess what I feel is frustration and curiosity — like, what was it about me he didn't want to know?"
But Bill — who has been estranged from his children with ex-wife Goldie Hawn since their divorce in 1980, besides sporadic reconciliations — says he doesn't blame Kurt and is actually glad that a good man came into Kate and Oliver Hudson's life.
"Kurt has been there for her and I'm happy for that and I think it's a good thing. Kurt's a really good guy. What's more hurtful is Kate saying publicly that I've abandoned her because that's just not true," Bill said.
"Even though it was hurtful, I was much happier with that from when Goldie and I first broke up. We split because she had an affair with Yves Renier who she met on the set of Private Benjamin and he'd be there with my kids and it was just sort of a thing and didn't seem like it was something that would last, and I didn't like that."
Article continues below advertisement
Bill just released a book at the first of the year called Two Versions: The Other Side of Fame and Family, in which he talks about his past with Goldie, his relationship with Kate and Oliver, and what it was like to go through his personal family problems in a public light.
"It is not a trashy tell-all. It's my side of what happened and it's backed with facts and Goldie's own words and Kate's own words and my words and feelings," Bill explained.