Exclusive
Kate Hudson's Father Calls Her 'Spoiled Brat' And 'Man Eater' In Scandalous Tell-All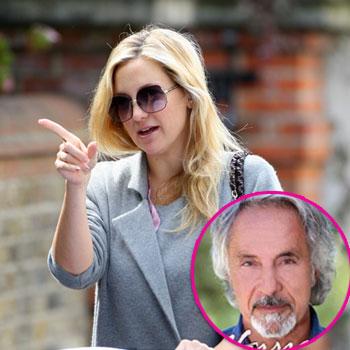 Kate Hudson is reeling that her estranged father, Bill Hudson has penned a scandalous tell-all detailing all her dirty little secrets, Star magazine is reporting.
In the book, titled Two Versions: The Other Side of Fame and Family, Bill, a musician, reveals that Kate was a "very happy child, but there was a distance in her."
He goes on to depict his now 31-year-old daughter as a rabid man eater and attacks her for not visiting her dying 88-year-old grandmother.
Article continues below advertisement
"Kate was married to Chris Robinson and then divorced him to be with Owen Wilson. I love Kate, but she has done stuff which is just awful," Hudson writes in his book.
"I love Kate, but I think she has been contrived and destructive with me and with her other brothers and sisters. She is a spoiled brat in my eyes and at the end of the day, she should meet her little sister. I should meet my grandchild and she should help her grandmother," he goes on to write.
Hudson also takes several swipes at his ex-wife and Kate's mother, Goldie Hawn. "What if your ex-wife used her public platform to spread rumors about your relationship with your children?" He asks, going on to describe Hawn as "a movie star who enjoyed having 'open relationships' and limiting access to their children."
In the steamy memoir, Bill draws many parallels between Kate and her mother, Goldie Hawn, claiming, Hawn had dalliances with her Shampoo co-star, Warren Beatty, and French actor Yves Renier, while she and Bill were still married.
Article continues below advertisement