Exclusive
Kate Gosselin's Former Nanny Has Criminal Background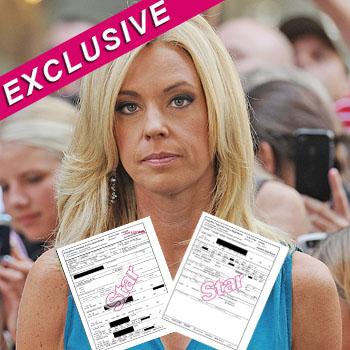 A nanny who watched over Kate Gosselin's eight children had a criminal past, as she was arrested for shoplifting prior to her stint with the family, Star magazine is reporting exclusively.
According to a police report obtained by Star, Ariel Cantara was taken into custody on June 2, 2009, after she allegedly pilfered $44 in goods, including rice vinegar, tampons and Axe body wash.
EXCLUSIVE DOCUNMENTS: Kate Gosselin's Former Nanny Busted For Shoplifting
Article continues below advertisement
After initially admitting the theft to a store employee, Cantara floated a story to cops that her boyfriend's mother had given her the items, which were paid for, before coming clean about the heist, Star reported.
She ultimately wound up with a non-traffic citation in the amount of $173.50.
Cantara quit working for the famous Pennsylvania family in 2010 after butting heads with the reality TV mom.
It's not the first instance of a person with checkered criminal past being tied to the show: as RadarOnline.com previously reported, former John & Kate Plus 8 film editor William Blankinship was arrested in October 2011 on 10 counts of sexually exploiting a minor.