Kate Gosselin Runs Her First Marathon In Las Vegas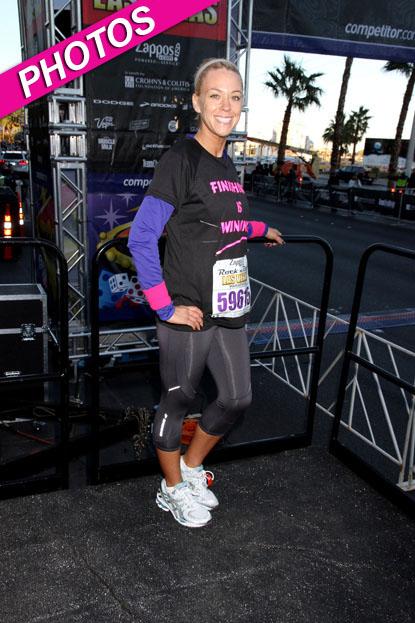 Kate Gosselin ran her first marathon Sunday, a grueling 26.2 mile trek through Sin City in the Zappos.com Rock 'n' Roll Marathon at the Mandalay Bay Hotel and Casino in Las Vegas.
The determined reality star wore a black shirt that read "Finishing Is Winning," and spandex leggings for the event that attracted more than 44,000 runners for two races -- a full (26.2 mile) and half (13-mile) course.
Article continues below advertisement
Before posing for pics -- including a shot with a pair of showgirls -- the 36-year-old beauty took to Twitter to share some of her strategies toward keeping energized for the grueling trek.
"Eating lunch... Tiny blueberry scone, apple bran muffin and mac&cheese. Hoping for fuel from these fine carby foods! :)," the athletic mother-of-eight tweeted to her 65,000+ followers Sunday, adding her "kids are having a marathon party at home while I'm actually running it."