Exclusive
Gloria Allred Fires Off Letter To TV Stations Planning On Airing Anti-Abortion Ad During Super Bowl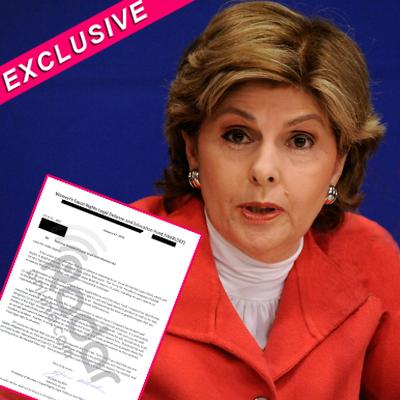 By Jen Heger - Radar Legal Editor
Famed women's rights advocate Gloria Allred has fired off a letter to television stations that are planning on airing an anti-abortion ad during the Super Bowl, and the legal ace is demanding that the ads not be aired because of their inflammatory nature, and RadarOnline.com has exclusively obtained the letter.
Right to life advocate Randall Terry, who is running for President, has bought ad time to air the commercials which depict "in graphic nature, an aborted fetus and or fetal parts," Allred asserts in the letter which was sent to eleven local affiliates that intend to  broadcast the commercial.
Article continues below advertisement
EXCLSUIVE DOCUMENT: Gloria Allred's Letter To TV Stations
The anti-abortion ads will run during the Super Bowl in Ada, Oklahoma, Grand Junction, Colorado, Joplin, Missouri, Paducah, Kentucky, and Springfield, Missouri. Commercials will also be airing during the pre-game of the Super Bowl in Kansas City, Tulsa, Oklahoma, and St. Louis, Missouri, among others.
According to the letter, if the stations air the commercials, Allred wants "the opportunity to appear on your station to express the pro-choice right to safe and legal abortion positions, as well as to react to the grossly offensive ad that your stations intends to air. Broadcasting the king of graphic images that you reportedly intend to air during the Super Bowl is extremely inflammatory."
The President of the Women's Equal Rights Legal Defense and Eduction fund, points out that there is an inherent danger in televising the ad because "in light of the fact that we now live in an environment in which there is a frequent harassment and sometimes violence against doctors, healthcare providers, and clinics that provide abortions, it is particularly dangerous to air such an ad without the other side being presented. I am sure you are well aware of the tragic murder of Dr. George Tiller (an abortion provider). Even before he was murdered by Scott Roeder (an anti-choice activist), Dr. Tiller was the frequent target of violence against him. Broadcasting such an ad will only serve to polarize the public on this important issue and could mislead young people about the medical procedure."
Article continues below advertisement
This isn't the first time Allred has taken issue with a pro-life ad being aired during the Super Bowl. As RadarOnline.com previously reported, the powerhouse attorney sent a letter to CBS which was broadcasting the Super Bowl in 2010 over an ad, featuring then college football player and devout Christian, Tim Tebow, and his mother Pam, is funded by Focus on the Family, a conservative Christian organization that places emphasis on marriage and parenthood.
EXCLUSIVE DOCUMENT: Gloria Allred Pens An Open Letter To Les Moonves, CEO Of CBS
In that controversial ad, Pam shared the story of her difficult 1987 pregnancy which occurred when she was working as a missionary in the Philippines. In her harrowing tale she says she fell ill with amoebic dysentery while pregnant and was treated with robust antibiotics, which she says doctors told her had caused fetal damage, prompting them to urge her to terminate her pregnancy, but she refused their advice that she have an abortion for her own safety. Going on to give birth to Tebow, the now-famous quarterback who went on to become a Heisman Trophy winner, leading the Gators to two BCS wins.