Exclusive
David Beckham Asks Judge To Reinstate $25M Lawsuit Against Prostitute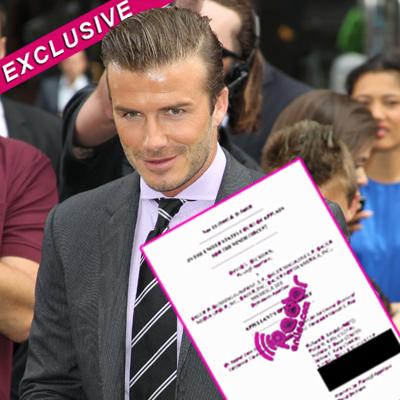 By Jen Heger - RadarOnline.com Legal Editor
Los Angeles Galaxy hunk David Beckham has filed an appeal in his $25 million dollar lawsuit against a magazine publisher and a Bosnian hooker, which was tossed out last year, RadarOnline.com is exclusively reporting.
Beckham's lawsuit was dismissed in a California federal court, after the judge determined that In Touch Weekly's article titled David's Dangerous Betrayal, published on October 4, 2010, was in the public interest, and wasn't libelous.
Article continues below advertisement
EXCLUSIVE DOCUMENTS: Read David Beckham's Libel Case Appeal Against In Touch Magazine
Prostitute Irma Nici, 26, had alleged in the magazine that she had a series of sex romps with the soccer stud for $10,000 cash in London and New York in 2007.
Beckham's lawyers have filed a lengthy appeal asking that the lawsuit against Bauer Publishing, which owns In Touch Weekly, and Nici, be re-instated because: "Bauer did not produce critical documents or evidence related to its internet 'research' concerning Beckham. Notably, it never produced documents by which it claimed confirmed Beckham's whereabouts during the time periods in question.
"Bauer did not offer any information or evidence that would even suggest that it sought or received any corroborating from Nici, Davis, or the alleged prostitute, which would prove or disprove the veracity of the Article. Beckham was unable to seek or to confirm information as to why In Touch did not request any of this corroborating information," the brief states.
The appeal was filed in the Ninth Circuit Court of Appeals. Beckham has vehemently denied the allegations, and he says he has never even met the prostitute.