Exclusive
Cosmopolitan 'Hits New Low' With Dakota Fanning Cover, Claims Conservative Group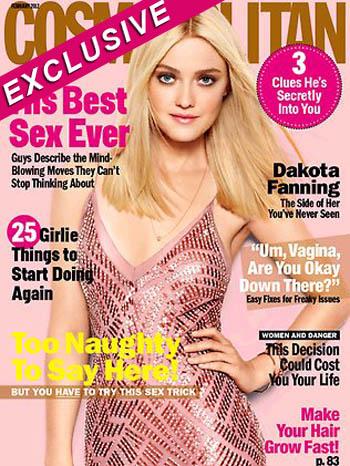 By Debbie Emery - RadarOnline.com Reporter
She may be a Hollywood veteran but actress Dakota Fanning is still only 17, not that anyone would guess that by her raunchy new Cosmopolitan magazine cover.
Emblazoned with headlines such as 'Too Naughty To Say Here,' and 'Um, Vagina, Are You Okay Down There?' the February issue of the women's magazine screams sex, and the inclusion of a teenager on the cover has infuriated conservative groups, RadarOnline.com can reveal.
Article continues below advertisement
"It's difficult for Cosmopolitan magazine to hit a new low, but they managed it," Dan Gainor of the Culture and Media Institute told RadarOnline.com in an exclusive interview.
"Cosmo, long the magazine with some of the most offensive cover blurbs now links a 17-year-old girl with classy headlines like 'His Best Sex Ever.' How can any advertiser knowingly support such exploitation?"
The Runaways actress doesn't reach the age of consent until she turns 18 on February 23, but that didn't stop her from posing sassily in a low-cut sparkly dress on the cover of the mag, which according to Gainor, "has long-sold sleaze."
"Now it sells teenage girls like some street-corner pimp," he went on to say.
"Buried amidst a pile of sex headlines is the one about Fanning: 'The Side of Her You've Never Seen.'
While the interview inside focuses on Dakota's dream of finding "the one" someday and her upcoming film projects, "Given the heavy sexual context, readers will naturally conclude this issue is about her sex life," Gainor explained.