Brad Pitt & Angelina Jolie Will Probably Cave On Marriage, For The Kids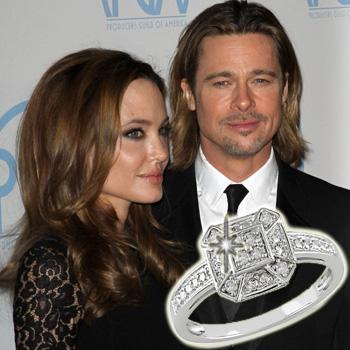 Brad Pitt and Angelina Jolie have publicly vowed not to marry until everyone in America has the right to, but it seems like the Hollywood power couple may go back on their word!
The Academy Award nominated star reveals in a new interview that he doesn't think that he and Angie are going to be able to hold out heading down the aisle – at the pressure of their children!
"We'd actually like to and it seems to mean more and more to our kids," he tells The Hollywood Reporter, when asked about whether he'll get married.
Article continues below advertisement
"We made this declaration some time ago that we weren't going to do it till everyone can. But I don't think we'll be able to hold out. It means so much to my kids, and they ask a lot. And it means something to me, too, to make that kind of commitment."
As RadarOnline.com previously reported, in September, Brad went on the Ellen DeGeneres Show, vowing to talk show host Ellen DeGeneres that he and Angie were planning on waiting until gays were given the right to wed.
"I've said that we would not be getting married until everyone in this county had the right to get married," Pitt told DeGeneres. "We live in this great country that is about freedom. It is defined by our freedom and equality and yet we allow this discrimination to go on everyday and that's not what we're about -- that's not what makes us great.
"Until that is reversed, I just don't get it," Pitt said, launching into an Italian accent. "It'a make'a no sense to me!"