The X Factor: Rachel Crow, 13, Breaks Down Crying After Elimination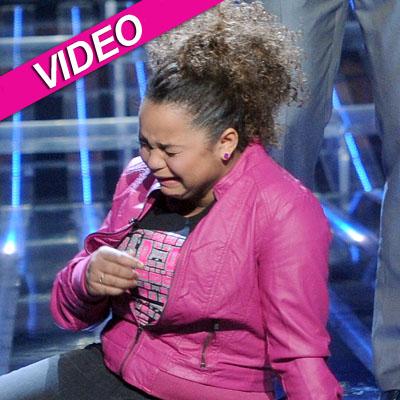 Thirteen-year-old Rachel Crow was extremely emotional following her elimination on Thursday's edition of The X Factor.
Crow, who landed in the bottom two with Marcus Canty, could have been saved by judge Nicole Scherzinger, though the ex-Pussycat Doll deferred the vote to viewers, with the person with the lowest vote total going home.
After Crow's elimination was announced, the young girl was devastated by the defeat, falling to the ground and crying hysterically to her mother, who jumped onto the stage to console her. Soon, judges Simon Cowell and Scherzinger rushed onstage to try and calm things down.
Article continues below advertisement
When she regained her composure, Crow told the crowd, "I just love you so much, everybody, for voting for me, even though you didn't, and thank you for giving me this because without you I am nothing.
"I hope this is not my ending, you know what, I know it's not."
Cowell then took the mic, and told the crowd Crow "went out on the highest she could have gone out on," predicting "we're going to be hearing a lot more about Rachel Crow."