Oscar Campaign For 'The Artist' Star, Uggie The Jack Russell!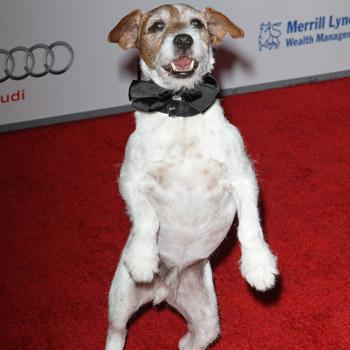 By Debbie Emery - RadarOnline.com Reporter
The nominations for Best Actor should be a shoo-in for one four-legged star after Uggie, the Jack Russell, stole the show in The Artist.
The nine-year-old terrier wowed audiences and critics alike with his breakout role in the French black and white silent movie, and is now the focus of a Facebook campaign by Movieline demanding he be given an award for his acting chops.
Article continues below advertisement
His name is being thrown out with the cream of Oscar contenders such as Leonardo DiCaprio and George Clooney for his moving performance as the loyal companion to a fallen from grace film star, played by Jean Dujardin.
Uggie trotted away with the Palm Dog Prize at this year's Cannes Film Festival but unfortunately he won't get Hollywood's biggest prize unless the rules are changed, as dogs aren't allowed to walk home with an Oscar.
It's not the only prejudice Uggie has endured in Hollywood, while he proudly walked the red carpet at The Artist premiere last month dressed in a black bow tie, the brown and white pooch wasn't permitted into the Grauman's Chinese Theatre to watch the screening.
The former pound dog, who had been shunned by his original owners after biting a goat, was plucked from obscurity by trainer and foster-owner Omar Von Muller, with whose family he lives with in North Hollywood.
Article continues below advertisement
The key to tapping into the furry method actor's talent is hot dogs, revealed co-star James Cromwell.
"Jean said he had to go into the sausage business because he had so many on him to keep Uggie's interest," said the actor. "If you don't have sausages, you are no more interesting to Uggie than a lamppost."
Uggie's previous roles include Mr. Fix It, and Water For Elephants, alongside Robert Pattinson and Reese Witherspoon.